Jesse Jackson Picked By Colombia's FARC To Facilitate Release Of U.S. Marine Held Hostage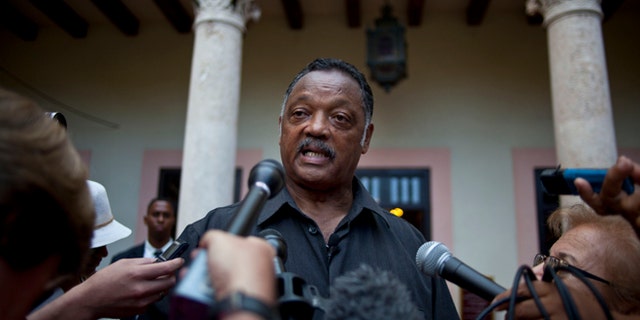 Civil rights leader Jesse Jackson announced earlier this week that he has brokered a deal with Colombia's largest guerrilla group to release a former U.S. Marine that they have held hostage since June.
Jackson met with members of the Revolutionary Armed Forces of Colombia (FARC) over the weekend while in Havana, Cuba, where he accepted a request by rebel commanders to oversee the release of Kevin Scott Sutay. The veteran of the war in Afghanistan was hiking in a guerrilla-controlled zone in Colombia earlier this year when he was kidnapped by the FARC.
"I commend the FARC for agreeing to release Mr. Sutay on humanitarian grounds. I hope Mr. Sutay will now be able to return to the U.S., reunite with his family, and get on with a normal life," Jackson said, according to his activist organization Rainbow Push. "I hope the release of Mr. Sutay might stimulate progress on the peace negotiations between the Colombian government and the FARC, end the violence in the country and pave the way for a lasting peace."
Colombian President Juan Manuel Santos said on a Twitter message that only the Red Cross would be allowed to secure Sutay's release and warned that there would be no "media spectacle."
There are currently no details as to how, when or where Sutay will be released, but Jackson said he hopes to arrive in Colombia within the week to facilitate his release.
The civil rights leader was in Colombia in mid-September for a world conference focusing on Afro-Colombian issues, when he first weighed in on the Sutay case by calling for his release.
The FARC and members of the Colombian government are currently in Havana where they are conducting on-going peace talks in an attempt to end the almost 50-year-old civil conflict.
"The FARC-EP have taken the decision to solicit that Reverend Jesse Jackson makes available to this effort his experience and probity to expedite the liberation of Kevin Scott," the FARC said in a statement, according to Reuters.
Back in July it looked as if Sutay was going to be released to the International Red Cross, but then FARC described him as a "prisoner of war" and accused him of being a mercenary working for Colombian President Juan Manuel Santos. In February 2012, FARC announced it would stop taking hostages to raise money for its armed struggle, but said it would continue to take "prisoners of war."
Jackson has mediated the release of a number of American hostages around the world in the past, including in Yugoslavia, Syria and Iraq. He has also visited Cuba on numerous occasions and met with both Fidel and Raúl Castro. In 1984, he assisted in the release of 26 Cuban prisoners.
During his trip to Cuba he also made attempts to visit jailed American contractor Alan Gross, but was unsuccessful.
Gross was arrested in 2009 while importing restricted communications equipment as part of a U.S. government-funded democracy building program. He was accused of spying and convicted of crimes under a statute governing crimes against the state.
Gross says he was only setting up Internet networks for island Jewish groups and posed no threat to Cuban sovereignty.
"There are associates that we have within the Cuban government that have great concern about Alan Gross," Jackson said. "We are not working on that assignment today, but we are very concerned."
Follow us on twitter.com/foxnewslatino
Like us at facebook.com/foxnewslatino