Japan's economy shrinks in April-June quarter, on weaker consumer demand, stalling exports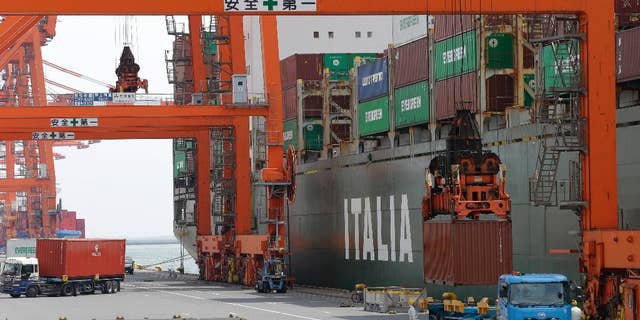 TOKYO – Japan's economy contracted at a 1.6 percent annual pace in the April-June quarter in the latest setback for the country's "Abenomics" growth strategy.
The gloomy preliminary growth data reported Monday was in line with expectations, and raises the likelihood the central bank may opt for fresh stimulus measures in coming months.
Weather may have played an important role in the weaker growth, as heavy rains in the spring and early summer discouraged consumer spending, Masamichi Adachi of JPMorgan said in a research note.
But the extremely hot weather that followed in July and August will likely have spurred demand.
"The underlying consumption trend may not be as strong as we had predicted, but rising income should translate to an increase in spending, especially in a hot summer," Adachi said.
The contraction in April-June represented a 0.4 percent decrease from the previous quarter, when the economy expanded at a robust 3.9 percent annual pace.
Prime Minister Shinzo Abe has championed a strategy of massive monetary easing that is pumping trillions of yen (hundreds of billions of dollars) into the economy. But stagnant wage growth and corporate investment have so far slowed progress toward a strong, sustained cycle of growth.
The Bank of Japan has persisted in forecasting a rebound later in the year, but if growth remains slack in the current quarter it may opt for additional stimulus, Adachi said.
The data released Monday show that private consumption, the biggest driver of growth, fell 1.7 percent in annual terms despite an 8 percent increase in residential investment. Corporate investment slipped 0.3 percent.
Exports fell 16.5 percent from a year earlier, with net exports minus imports down nearly 10 percent.
The economy got a boost from public investment, which rose almost 11 percent from a year earlier, as spending was "front-loaded" at the beginning of the fiscal year, which starts April 1.
Japanese companies reported an average increase in net profit of 42 percent in the April-June quarter from a year earlier. But corporations have generally opted to spend rising profits on investments overseas, rather than in Japan or on increasing wages.
Wages fell 2.9 percent in June from a year earlier, according to figures released last week. While hourly wages have increased slightly, companies tend to hire part-time or contract workers to fill any gaps.
"While the number of jobs is almost back to pre-recession levels, the total number of hours of work for all workers combined has been flat at 5 percent below the pre-recession level ever since 2009," Richard Katz of the Oriental Economist wrote in an analysis last week.
"Any tendency toward rising wages faces the headwinds that virtually all the growth in jobs is for lower-paid women and irregulars," he noted.
__
Follow Elaine Kurtenbach: www.twitter.com/ekurtenbach