Japanese journalist killed covering Syria fighting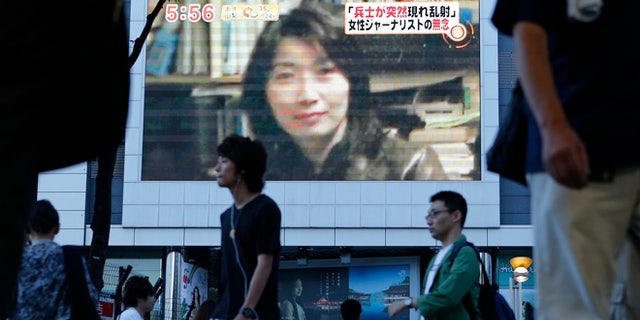 NEWYou can now listen to Fox News articles!
TOKYO – A Japanese war correspondent was shot and killed while covering Syria's civil war, her family and the government said Tuesday.
Mika Yamamoto worked for The Japan Press, an independent TV news provider that specializes in conflict zone coverage.
She was hit by gunfire Monday while she and a colleague were traveling with the Free Syrian Army in the northwestern city of Aleppo, said Masaru Sato, a spokesman with the Foreign Ministry in Tokyo. The rebel army is trying to topple the regime of President Bashar Assad.
A YouTube video posted by an activist in Syria shows Yamamoto inside a van wrapped in blankets with only her face showing. An Associated Press reporter who had worked with Yamamoto and who viewed the video confirmed her identity.
In another video, apparently taken at a field hospital, her Japanese colleague Kazutaka Sato wept as he looked into her blood-smeared face, then gently pressed his cheek against hers.
"Why? You are wearing a flak jacket," he said, speaking to her lifeless body. "That must hurt. Did you suffer? Were you shot in the head?" he asked, sobbing. Then he saw her arm with gunshot wounds, obviously suffered as she covered her head. "Oh, that hurt, didn't it?"
Yamamoto had been shot in the neck, her father Koji Yamamoto quoted Japanese government officials as saying.
Yamamoto had covered the war in Afghanistan after 2001 and the 2003 U.S. invasion of Iraq from Baghdad as a special correspondent for NTV, according to Japan Press' website.
In the YouTube video, Capt. Ahmed Ghazali, a rebel fighter in the northern Syrian city of Azaz, says the Japanese journalist was killed by regime forces in Aleppo.
"We welcome any journalist who wants to enter Syria," Ghazali says. "We will secure their entry, but we are not responsible for the brutality of Assad's forces against the media."
Activists say Syria's conflict has killed more than 20,000 people since March 2011. Ghazali expressed frustration that the international community has not intervened in the war and said he hopes the journalist's death will encourage international action.
"I hope that these countries that have not been moved by Syrian blood will be moved by the blood of their people," he says.
Ghazali also said two other journalists were captured by Syrian government forces in Aleppo, including a reporter with Al-Hurra TV named "Bashar."
A statement from Springfield, Virginia-based Al-Hurra said the video referred to correspondent Bashar Fahmi and his cameraman Cuneyt Unal. The company has not been able to reach either man since they entered Syria on Monday morning.
"We are currently working to gather more information about their status. The safety and wellbeing of our journalists is of utmost concern to us," the statement said.
Yamamoto's body has been transferred to Turkey, where Japanese consular officials were providing assistance, the Japanese foreign ministry spokesman said.
In an interview with a Japanese TV network from his home in Yamanashi, just north of Tokyo, Yamamoto's father said he respected her as a journalist who "always stood against those with power and thought of as weak."
He said he saw her as a journalist who cared about people, not as a war reporter.
"Whenever she was out on a reporting trip, I prayed for her safety. That's all I could do as a parent," he said. He had also sent her an email just several days ago, with a subject "Praying for your safety."
Just few days earlier, Yamamoto said she was in Kilis, a Turkish village near the border.
"It's a very peaceful Turkish village," she wrote in her last message to her father.