Japan promises to talk to China despite protests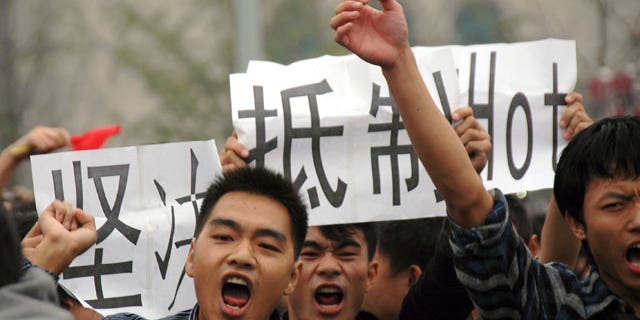 TOKYO – Japan said Tuesday that recent rowdy anti-Japanese protests in China would not derail plans for the countries' foreign ministers to meet next week, as the neighbors try to move past a territorial dispute that had threatened to harm relations.
Foreign Minister Seiji Maehara said Tokyo and Beijing are both trying to arrange formal talks between leaders of the two Asian powers following their spat over who owns a string of small islands in the East China Sea.
China broke off ministerial-level contacts with Japan after Tokyo detained a Chinese fishing boat captain whose trawler collided with two Japanese patrol boats near the islands, called the Senkaku in Japanese and the Diaoyu in Chinese. Japan eventually released the captain.
Tensions subsided after the two prime ministers held an impromptu meeting in the corridor of an Asia-Europe summit. But, over the last few days, sometimes violent rallies in several Chinese cities protesting Tokyo's claim to the islands have threatened to reopen the wound.
The Japanese Foreign Ministry on Tuesday issued a travel advisory to Japanese visitors to China, warning them of anti-Japan sentiment and protests.
"I am not aware that the recent series of protests in China are interfering with our mutual goals of holding Japan-China foreign ministers' talks or a summit meeting," he told a regular news conference Tuesday. "We are currently discussing ways ... to normalize Japan-China relations."
Maehara also called on Beijing to handle the protests "properly."
Analysts say that Beijing has allowed the protests to defuse public anger and prevent the frustrations from being turned against the Chinese regime itself.
Maehara said that he is trying to work out a meeting with Chinese Foreign Minister Yang Jiechi. Separate talks between Japanese Prime Minister Naoto Kan and Chinese Premier Jiabao Wen are being arranged on the sidelines of a meeting with the Association of Southeast Asian Nations on Oct. 28-30.
Included in the talks would be a discussion of how to prevent further disputes near the islands, considered fertile fishing grounds and rich in undersea resources.
In Beijing, Chinese Foreign Ministry spokesman Ma Zhaoxu would not confirm a meeting between Chinese and Japanese officials at ASEAN, but said Beijing hoped "Japan could demonstrate sincerity to improve bilateral relations through concrete actions and create necessary atmosphere and conditions for the meeting."
Ma repeated a previous government statement about the rallies and said some Chinese wanted to show their "indignation to some erroneous remarks and deeds by Japan" but that such patriotism should be expressed "in a legal and rational manner." He did not say why the government allowed the rallies or whether more could be expected in coming days.
Kan said Monday the anti-Japan protests were "regrettable" and asked Beijing to ensure the safety and security of Japanese citizens and companies in China.
As he has in the past, Kan stayed away from Tokyo's Yasukuni war shrine Tuesday when dozens of conservative lawmakers paid a seasonal visit to honor the war dead. Pacifists and victims of Japan's wartime aggression, such as China and the Koreas, say Yasukuni, which also honors convicted war criminals, glorifies Japan's past militarism.
In another sign of a thaw, a senior ruling party lawmaker Satsuki Eda and a group of 1,000 Japanese youths visited Beijing for a cultural exchange after China's abrupt postponement last month. Eda held informal talks with China's foreign minister Yang and reportedly agreed to overcome the territorial row and build friendly ties.
___
Associated Press Writer Anita Chang contributed to this report from Beijing.