Japan PM Abe demands end to Fukushima leaks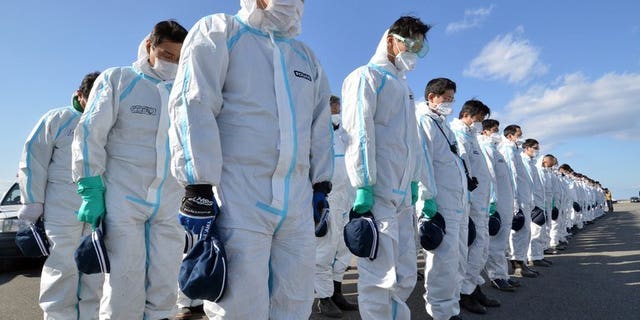 FUKUSHIMA DAIICHI NUCLEAR PLANT, Japan (AFP) – Japan's prime minister told Fukushima's operator to fix radioactive water leaks as he toured the crippled nuclear plant Thursday, less than two weeks after assuring the world the situation was under control.
Shinzo Abe also said he stood by assertions he made at a meeting of Olympic chiefs that the effect of contaminated water was contained.
Those reassurances, given at a meeting of the International Olympic Committee in Buenos Aires, were seen as key to Tokyo's successful bid to host the 2020 Olympic Games.
Thursday's visit came as it emerged that just months after the March 2011 disaster, authorities allowed operator Tokyo Electric Power (TEPCO) to shelve costly plans to deal with groundwater over fears it would push the massive utility into bankruptcy.
Hundreds of tonnes of groundwater are becoming contaminated daily as they mix with highly polluted water used to cool the broken reactors. The water then flows out to sea.
Hours after the visit, a magnitude 5.3 earthquake rocked the Fukushima prefecture early Friday, just 50 kilometres (31 miles) southwest of the plant.
No tsunami warning was issued and TEPCO said in a statement to Kyodo news agency that no abnormalities in radiation or equipment were observed at the plant after the quake, which struck at a depth of 22 kilometres at 02:25 am (1725 GMT).
Abe wore a full face mask and an orange helmet for the tour, along with a white Tyvek protective suit that had the words "Prime Minister Shinzo Abe" emblazoned on the back in black. He was escorted around the site by TEPCO executives, including president Naomi Hirose.
The visit is part of a campaign aimed at reassuring the world about the state of the plant, more than two-and-a-half years after it was battered by a huge tsunami.
Speaking to Olympic chiefs in Buenos Aires just ahead of a decision to award the Games to Tokyo, Abe said of the plant: "Let me assure you, the situation is under control."
But some critics and experts say Abe's gloss on the disaster is bordering on the dishonest -- a senior TEPCO executive flatly contradicted the PM earlier this month.
"I think the current situation is that it is not under control," he told opposition lawmakers.
Counter rumours
TEPCO has poured thousands of tonnes of water onto the Fukushima reactors to tame meltdowns sparked by the March 2011 earthquake and tsunami.
The utility says they are now stable but need more water every day to keep them cool and to prevent them running out of control again.
Much of that now-contaminated water is being stored in temporary tanks at the plant, and TEPCO has so far revealed no clear plan for its disposal.
The problem has been worsened by leaks from some of those tanks that are believed to have seeped into groundwater or begun to make their way out to sea.
But Abe was bullish Thursday, pledging to "work hard to counter rumours questioning the safety of the Fukushima plant".
"One of the main purposes of this visit was to see it for myself, after I made those remarks on how the contaminated water has been handled," he told reporters.
"I am convinced the impact of waste water is completely blocked within 0.3 square kilometres inside the bay, as I said in Buenos Aires," he said.
He said he had demanded TEPCO allocate more cash to ensure it had the means to carry out urgently-needed work, and told Hirose that Reactors 5 and 6, which were undamaged by the tsunami, should be decommissioned.
He also said TEPCO had "to resolve the leaky water problem by setting a timeline".
TEPCO has come under fresh pressure after the opposition Democratic Party of Japan (DPJ), which governed the nation when the crisis occurred, admitted having acceded to the utility's request to shelve plans for a costly underground barrier to block subterranean water.
Sumio Mabuchi, a DPJ lawmaker who was then in charge of the disaster management, told a party committee on Wednesday that the government shared concerns that the construction would plunge the utility deeper into debt and could force it into bankruptcy.
The revelations will add to the impression that TEPCO is more concerned with its bottom line than with fixing the mess at its leaking plant.