Japan beat Canada in Pacific Nations Cup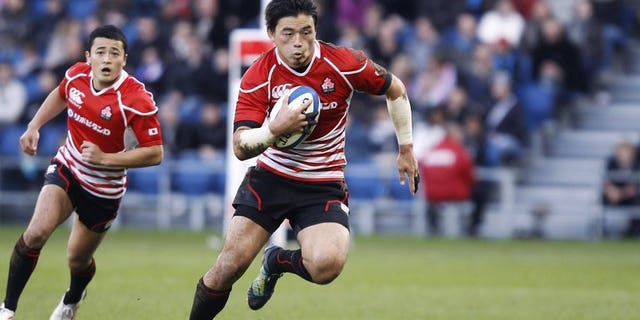 TOKYO (AFP) – Full back Ayumu Goromaru scored all the points to lead Asian champions Japan to a 16-13 victory over Canada in the Pacific Nations Cup rugby tournament in Nagoya on Wednesday.
It was Japan's first win in the five-nation tournament after two defeats, leaving the title hopes to Canada on 12 points, Fiji on 11 points and Tonga on 10 points.
After full back James Pritchard scored a penalty goal in the third minute, neither could score a point with Goromaru missing one penalty for Japan and right centre Ciaran Hearn missing another for Canada.
The Japanese, fresh from their historic first victory over Wales last week, repeatedly threatened the Canadians but each time they were pushed back to end the first half.
Japan finally evened the score after the break when Goromaru cashed in on an easy penalty in front of the Canadian posts in the 45th minute. He added another penalty goal to give Japan a 6-3 lead in the 51st minute.
But their lead was bleak as the visitors connected passes through right flanker Nanyak Dala, left centre Nick Blevins, scrum half Sean White before Ciaran Hearn completed by diving between the posts two minutes later for 8-6 and then 10-6.
Local spectators were delighted when Goromaru touched down in the 62nd minute and he himself converted it for 13-10 before Pritchard evened with a penalty.
Japan again took a 16-13 lead with Goromaru's penalty in the 72nd minute.
On the final day in Tokyo, Fiji will play Tonga, and Japan will play the United States.