Jamaica's Violet Brown dies at 117; Japan woman now oldest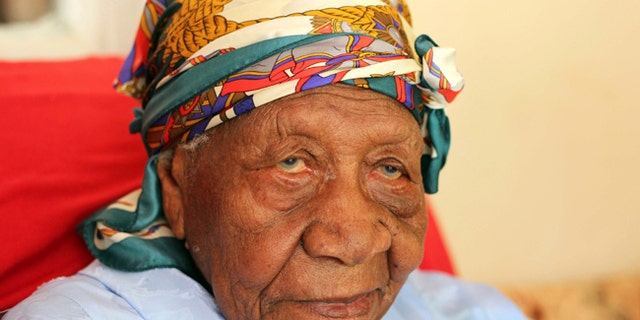 SANTO DOMINGO, Dominican Republic – The world's oldest person has died in Jamaica. Violet Brown was 117 years and 189 days old.
Prime Minister Andrew Holness expressed his condolences in a Facebook post, calling her "an inspiring woman."
The woman known as "Aunt V" died Friday at a local hospital, where she had been treated for heart arrhythmia and dehydration.
With her death, the Gerontology Research Group lists Nabi Tajima of Japan was the oldest surviving person. She was born on Aug. 4, 1900.
Brown was born Violet Moss — or Mosse: Both spellings were sometimes used — on March 10, 1900, and spent much of her life cutting sugar cane near her home in the Duanvale district in western Jamaica.
A biography posted on the website of a foundation named in her honor said she was baptized at age 13 at the Trittonvale Baptist Church and remained a member throughout her life, long serving as organist. She credited her longevity to hard work and her Christian faith.
Her husband Augustus Brown died in 1997 and the eldest of her six children died in April at age 97.
In an interview this year with The Associated Press, Brown said she was surprised but grateful to have lived so long.
"This is what God has given me, so I have to take it," she said.