Jailed 'kingpin' implicates Chavez government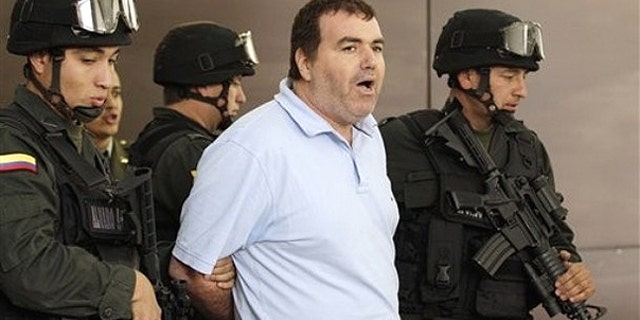 BOGOTA, Colombia – The reputed Venezuelan drug kingpin who Colombia has decided to extradite back home rather than to the U.S. says in a TV interview that he has videos proving Venezuela's ruling elite is deeply involved in cocaine trafficking.
But Walid Makled said in the interview broadcast Sunday night that he would disclose only to U.S. prosecutors the videos and other "conclusive evidence" of drug corruption in the inner circle of Venezuela's leftist president, Hugo Chavez.
Colombian President Juan Manuel Santos, seeking to improve what had been rocky relations with Chavez, announced in November that he would extradite Makled to Venezuela. Chavez asked first and Makled faces more serious charges, including murder, in Venezuela, Santos said.
Colombia's Supreme Court approved the extradition March 25.
Several key U.S. lawmakers have expressed concern that Makled will be silenced once back in Venezuela and the opportunity lost to expose monumental corruption in that country's ruling circles. International law enforcement officials say that under Chavez, Venezuela has become a major transshipment country for Colombian cocaine.
Last week, Sen. Richard Lugar of Indiana, the ranking Republican on the Senate Foreign Relations Committee, called on Santos to reconsider his decision.
He said in a statement that should Makled be extradited to Venezuela, U.S. drug agents and prosecutors "would be unable to use the information he has already provided to them to legally dismantle some of the most important drug networks in the world today."
Santos has been silent on the issue, though U.S. Republican Rep. Connie Mack of Florida told The Associated Press that he spoke to the Colombian president Wednesday and Santos told him "he is legally and politically tied to send Makled to Venezuela.
Makled was arrested in August in Colombia with the help of U.S. drug agents a little more than a year after the White House designated him an international kingpin.
He has spoken in prison with U.S. officials, American and Colombian officials have told the AP, speaking on condition of anonymity because they were not authorized to discuss the matter publicly. But the information he has provided on high-level Venezuelan corruption, one U.S. official said, would not likely be admissible as evidence in a U.S. court.
Makled has indicated he prefers to return to Venezuela, where the government jailed his three brothers on cocaine-trafficking charges shortly after one of them ran for mayor of the northern provincial capital of Valencia without the blessing of the Chavez camp.
In an interview from Bogota's Picota prison broadcast by Univision, Makled said he paid $5.5 million in 2005 or 2006 to Venezuela's current navy commander for a major warehouse concession at the country's main port of Puerto Cabello — which is also Venezuela's maritime drug smuggling nexus.
Makled offered greater detail on the number of recipients of the $1 million in payoffs he said he made monthly to senior Venezuelan military commanders. He said the recipients numbered 40, including generals, colonels and majors.
Makled said he didn't recruit the military officials: "It was more like they recruited me."
All the Venezuelan officials Makled has named as having taken his money — presumably to let his drugs leave the country unperturbed, though Makled has never said this explicitly — have denied his accusations. They say it's a smear campaign.
Makled offered no details of the alleged payments, and he reiterated that he has never met Chavez and couldn't say whether the Venezuelan president was involved.
He said five or six cocaine-laden planes flew daily from the western city of San Fernando de Apure to Honduras with "100 percent" knowledge by Venezuelan officials. From Honduras, the drugs were shipped through Mexico to the United States, Makled added.
U.S. and Colombian officials say that the leftist Revolutionary Armed Forces of Colombia was one of Makled's major cocaine suppliers and that he had moved tens of tons of drugs to the United States since 2006.
Asked about his ties to the FARC and to other extremist groups such as Hezbollah, the Syrian immigrant's son would say only: "That, as well, I will tell to a U.S. prosecutor."
___
Associated Press writers Frank Bajak in Lima, Peru, and Ian James in Caracas, Venezuela, contributed to this report.