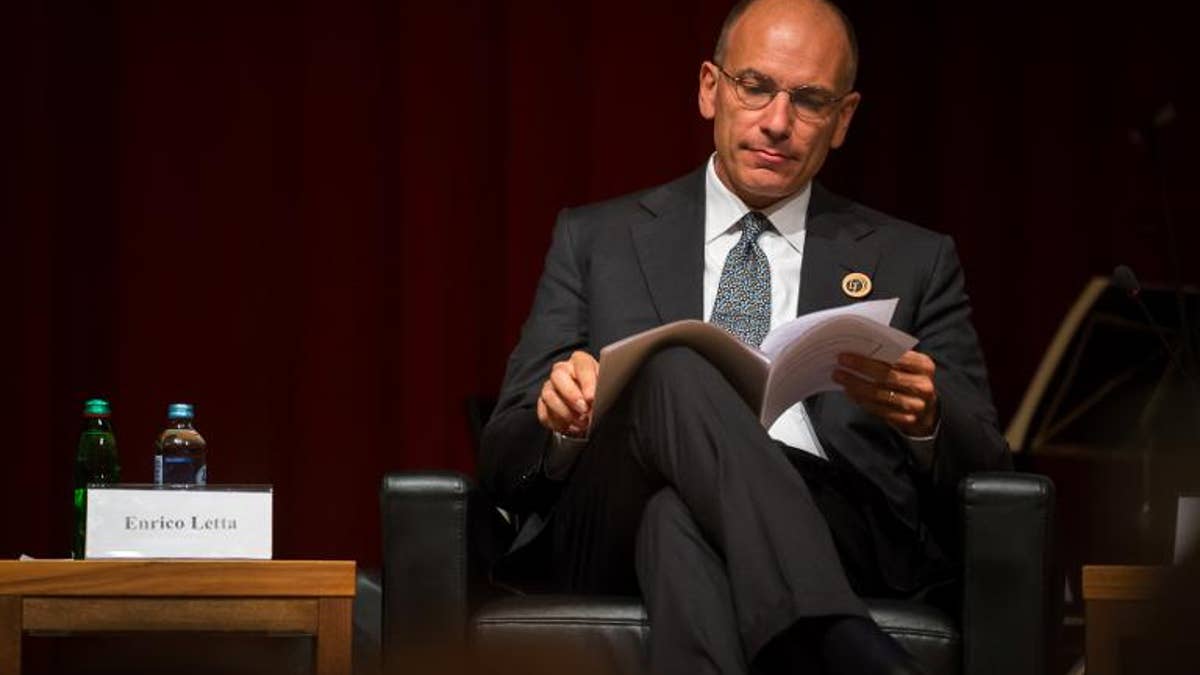 Rome (AFP) – Italy's president and prime minister held a crisis meeting Sunday after Silvio Berlusconi's centre-right party pulled its ministers out of a fragile coalition government barely five months old.
Berlusconi, facing removal from the Senate because of a conviction for tax fraud, spurred all five ministers of his People of Freedom (PDL) party to resign on Saturday.
The move was ostensibly sparked by Prime Minister Enrico Letta's refusal to discuss delaying an increase in the value-added tax until a vote of confidence in parliament demanded by the prime minister.
But the Italian press put the blame for the new government crisis squarely at Berlusconi's feet.
"The convict has made Italy fail," read the headline in the leftist daily Il Fatto Quotidiano, alluding to the billionaire Berlusconi's tax fraud conviction.
The centre-right La Stampa and business newspaper Il Sole 24 Ore decried "the madness" of the actions taken by the flamboyant media mogul who has dominated Italian politics for most of the last two decades.
Now President Giorgio Napolitano, 88, will have to mediate to find a way out of the latest political impasse, and has said he would dissolve parliament, triggering new elections, only "if there are no other solutions".
The former communist, who has become an old hand at refereeing such crises since taking office in 2006, has long said the electoral law should be reformed before any fresh elections.
Few scenarios seem likely. Letta could try to form another government, counting on various defections and the support of left-wing groups, but a new primarily left-wing government may have little room for manoeuvre.
Berlusconi, who turned 77 on Sunday, has expressed his support for quickly holding new elections because he claimed opinion polls showed that "we will win them".
Former comedian Beppe Grillo, head of the anti-establishment Five Star Movement, is also in favour of new polls.
Meanwhile, however, the PDL ministers who resigned were already appearing squeamish Sunday over a possible government collapse.
"We want to stand behind Berlusconi but not with his poor advisers," said Transport Minister Maurizio Lupi.
Defence Minister Mario Mauro also appeared to back-pedal, saying: "The time has passed to talk of renegades, traitors or loyalists."
Perhaps urging cooler heads to prevail in Italy's latest crisis, he added: 'Freedom of conscience could restore a viable government to Italy."
If the vote of confidence goes ahead, it would likely be held on Tuesday or Wednesday, according to Parliamentary Affairs Minister Dario Franceschini.
Letta's government was cobbled together following a two-month stand-off after an inconclusive general election in February. The premier of the centre-left Democratic Party (PD) had won the confidence of financial markets by managing the improbable right-left coalition.
Italian media Sunday speculated that if the crisis deepens there could be a reversal in market confidence, making it harder for Italy to deal with its economic difficulties and enact needed reforms.
The revolt among Berlusconi's backers boiled over on Thursday when they first threatened to resign over the former leader's legal problems.
A Senate committee was preparing to vote on whether to eject Berlusconi from the chamber after he was sentenced to a year in prison for tax fraud, a ruling that was upheld by Italy's top court in August.
'His crazy and irresponsible act'
Letta Friday told a cabinet meeting tasked with approving key measures to rein in the recession-hit country's budget deficit that no further legislation would be enacted until the political crisis was resolved.
The cabinet had convened to determine how to delay a controversial planned rise in value-added tax (VAT), but the meeting ended in disarray amid the escalating tension over Berlusconi's conviction.
As a result, the VAT hike from 21 percent to 22 percent will go ahead, with effect from Tuesday, as economists worry that it will dampen consumption.
In encouraging the PDL ministers to resign, Berlusconi said they should not be "complicit in the latest vexation imposed on Italians by the left".
Letta retorted: "To try to justify his crazy and irresponsible act, aimed fully at protecting his personal interests, Berlusconi is... using the VAT as an alibi."