Italy to autopsy bodies of 26 girls found in Mediterranean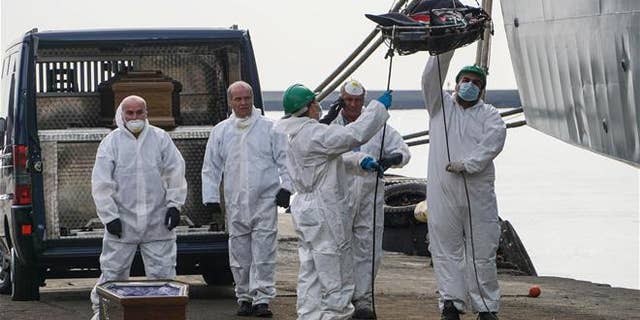 They were mostly between the ages of 14 and 18, and 26 of them are now dead. CNN reports on the latest tragedy in the Mediterranean Sea and describes an appalling scene: teenage girls' bodies floating lifelessly beside a nearly submerged rubber dingy that survivors tried to cling to.
The AFP reports 23 of the bodies were recovered Friday, with another three subsequently found. Their remains were brought ashore in Salerno, Italy; Salvatore Malfi, the police prefect there, tells NPR they appear to have drowned, but the bodies will be autopsied Tuesday to determine cause of death as well as whether the girls had been sexually abused.
The BBC reports some are questioning whether the girls, believed to hail from Niger and Nigeria, were abused and murdered. They were en route to Europe via Libya, which CNN calls "a hotbed for human traffickers." The AFP quotes Malfi as apparently trying to tamp down on that line of thought: "The sex trafficking routes are different. Loading women onto a boat is too risky, the traffickers would not do it as they could lose all their 'goods'—as they describe them—in one fell swoop." Per the UN's migration agency, the migrant death toll along the main Mediterranean route stands at 2,639 for the year through Nov. 1, versus 3,615 for the same period last year.
(This smuggler reportedly deliberately drowned 50 migrants.)
This article originally appeared on Newser: 26 Bodies Found Floating in Sea. All Were Teen Girls