Italy refuses rescue ship carrying 224 migrants to dock: '[They] will only see Italy on a postcard'
Italy's new hardline, anti-immigrant interior minister has refused port to a Dutch-flagged rescue ship carrying more than 200 migrants because it is now in Maltese waters.
On Thursday, Matteo Salvini accused the ship, which is operated by German NFO Mission Lifeline, of acting improperly by taking on board the 224 migrants that the Italian coast guard had assigned to the Libyan coast guard to rescue. He claimed the rescue was in Libyan waters, which Lifeline denies.
"I want to save lives but I'm paid by Italians to defend the safety of Italian citizens. I don't accept there are organizations of pseudo-volunteers that endanger the lives of those who flee Africa and then think to disembark them all in Italy," he said.
He added that those on board the ship "will only see Italy on a postcard".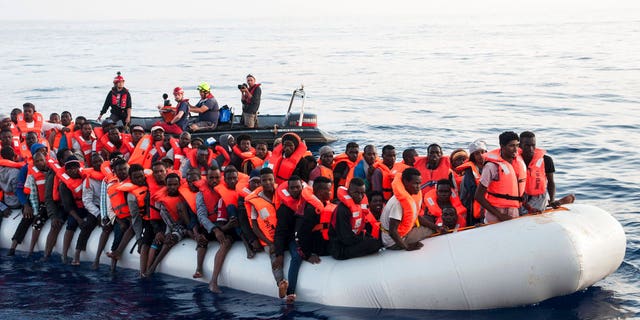 Malta responded that it would "act according to the law and applicable conventions", although it did not elaborate. Spain has been on contact with Malta offering humanitarian help.
GERMAN CHANCELLOR SAYS MIGRATION MEETING A 'FIRST EXCHANGE'
International law states Malta must respond if they are the nearest safe port at rescue or if requested by the ship's captain.
On Thursday, Danilo Toninelli, the Italian transport minister, said the coast guard would pick up the migrants because it was too dangerous for the boat to travel to the Netherlands with so many people – including 14 women and four small children – on board.
The standoff echoes another incident earlier this month when Italy refused to allow another charity ship, the Gibraltar-flagged Aquarius, from coming in to port, stranding more than 600 migrants at sea until Spain offered them safe haven. The ship arrived in Spain on Sunday along with two Italian ships.
ITALY VOWS TO EXPEL FAR MORE MIGRANTS, BUT IT WON'T BE EASY
Italy has seen more than 650,000 migrant arrivals since 2014, although the numbers are significantly down this year to around 14,500.
Salvini, whose right-wing League is in a populist coalition government elected three weeks ago, has said he wants to "stop the mafia of illegal immigration" and has likened rescue ships like the Lifeline to taxi services that finish the job for people smugglers.
On Friday he said: "Italy is no longer a country that can put up for sale, or occupied, a little bit by the French, a little bit by the Germans."
The comments come two days ahead of a crucial Brussels summit where the migration topic will be keenly discussed. The migrant crisis threatens to engulf German Chancellor Angela Merkel's own government.
The Associated Press contributed to this report.