Italy, Libya reach deal on halting migration ahead of EU summit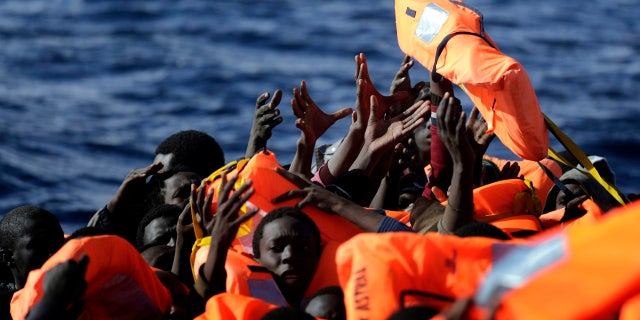 VALETTA, Malta – A day before European Union leaders meet to discuss closing off the illegal migrant route from Libya, Italy laid some of the groundwork Thursday by reaching a deal with the Libyan prime minister to try to stop migrants from setting out to cross the central Mediterranean.
Premier Paolo Gentiloni told reporters Thursday night after meeting Libyan Premier Fayez Serraj in Rome that the two sides signed a memo of understanding to step up cooperation and to fight migrant trafficking from Libyan shores.
A European Union summit scheduled for Friday in Malta on Friday is focused on finding ways to reduce the number of migrants leaving from Libya. Italy's Coast Guard has coordinated the rescue in the Mediterranean near Libya of hundreds of thousands of migrants in the last few years.
Gentiloni called his deal with Serraj "just a piece" of a wider plan that will be discussed in Malta and require an economic commitment from the EU's member countries.
EU Council President Donald Tusk said Thursday the EU summit would pave the way for humanitarian action to save lives of poor people with no chance of being granted permission to remain in Europe. The meeting comes amid global criticism of U.S. President Donald Trump's restrictions on refugees and immigration from seven Muslim-majority countries.
Tusk wants tougher action from the 28 EU leaders to break smuggling rings and the dangerous journeys on which they take migrants because "this is the only way to stop people dying in the desert and at se, and this is also the only way to gain control over migration in Europe."
"This goal is within our reach," he said on the eve of the summit.
After reaching a deal with Turkey to curb the number of desperate migrants setting off for Europe, EU leaders have been contemplating a similar accord with the internationally recognized but largely ineffective Libyan government. Migrant traffickers have funneled hundreds of thousands of economic and war refugees into southern Libya to await passage toward Italy's shores.
Serraj told reporters in Rome that his agreement with Gentiloni calls for more support for Libyan Coast Guard vessels patrolling the waters off the country's north and "humanitarian repatriation" of migrants. Serraj said economic deals between Italy and Libya are being discussed.
Human rights groups and some EU leaders have worried about the fate of migrants who set off for Europe from Libya. Most are economic refugees from Africa and unlikely eligible for asylum.
Some who reached Italy described being held in Libya for months before their smugglers arranged for flimsy boats to send them across the Mediterranean, where most ended up being rescued in operations coordinated by the Italian coast guard.
Survivors have told of rape, torture, inadequate food and forced labor while awaiting passage from Libya, which has largely been left lawless after the 2011 demise of Moammar Gadhafi and his regime.
Gentiloni said the EU's "economic commitment" would be vital for any success of the Libyan-Italian plan.
Tusk had already discussed Italy's move with German Chancellor Angela Merkel and French President Francois Hollande and said that the leaders had agreed on the need to support Italy and the memorandum.
"Europe should and will stand by Italy in sharing responsibility," he said.
With warmer weather coming, fears are that weekly migrant drownings in the Mediterranean will increase. Last year, at least 5,083 people died in the Mediterranean Sea, according to the International Organization for Migration.
The EU is now working with Libyan authorities to make sure the migrants do not board rickety sloops and head into the unforgiving waters, and will require that the bloc step up its aid to Libya's government.
In the draft summit declaration obtained by The Associated Press ahead of the summit in Malta, the 28 EU leaders say "authorities (need) to acquire control over the land and sea borders" to combat smuggling. It says the EU will give priority to training and equipping the Libyan coast guard.
The EU already has a military presence in international waters off Libya to counter smugglers and save lives but moving inside its maritime border would have a bigger impact on keeping migrants from boarding smugglers' boats.
"We are talking about a complicated situation on the ground," said EU foreign policy chief Federica Mogherini. "We have an interest as Europeans to invest."
Beyond Libya, EU investment to counter people from leaving Africa would have to be extended over a big swathe of nations from Ethiopia to Nigeria, making for a very costly arrangement.
In Turkey, EU committed 3 billion euros through to the end of the year to help the mostly Syrian refugees there.
On Thursday, German Chancellor Angela Merkel had a long meeting in Ankara before moving to Valletta. She praised Turkey for its "extraordinary" efforts on refugees and pledged to do everything to ensure the EU money can be spent as quickly as possible.