Italian priest attacked in Bangladesh in critical condition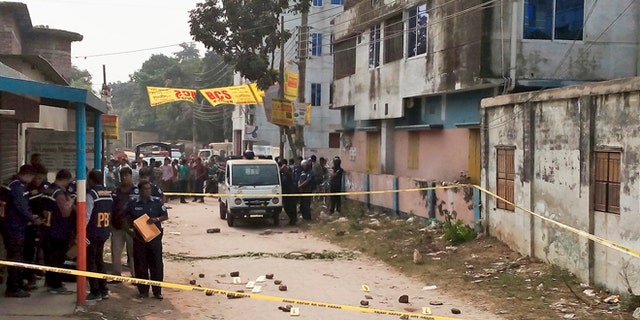 Three men fired shots at an Italian priest Wednesday as he rode his bicycle to church in northern Bangladesh, leaving him in critical condition amid a recent surge in militant violence.
The three assailants were on a motorbike when they attacked Piero Arolari in the town of Dinajpur, police officer Abul Hasan said. They fled after the attack.
The 57-year-old priest, who also is a doctor at St. Vincent hospital, was hit in the neck by a bullet, said AsiaNews, the news agency of the Vatican's missionary office.
After undergoing surgery at a local hospital, he was taken by helicopter to Dhaka, the capital, in critical condition, AsiaNews said.
It said several Protestant pastors in Dhaka have received death threats from Islamic extremists in recent days.
The bishop of Dinajpur, Sebastian Tudo, called for better security, saying `'it is unacceptable that our people become such easy targets," AsiaNews said.
No one has claimed responsibility for the attack.
Arolari has lived in Dinajpur for 35 years, treating poor people from the area, said local police chief Ruhul Amin. The town is 260 miles north of Dhaka.
Local media reported that the assailants attacked him from behind near a bus stop. As he fell to the ground, residents rushed to his rescue and took him to the hospital.
Bangladesh has been rocked by a series of attacks this year claimed by Islamic extremists, including the killings of bloggers and, more recently, of two foreigners -- an Italian aid worker and a Japanese agricultural worker.
An Oct. 24 bomb attack on thousands of Shiite Muslims in Dhaka killed a teenage boy and injured more than 100 others.
The Islamic State group claimed responsibility for the two earlier attacks on foreigners, but the government said the extremist Sunni militant group does not have a presence in the country.
The government accuses domestic Islamist militants along with Islamist political parties -- specifically the opposition Bangladesh Nationalist Party and its main ally, Jamaat-e-Islami -- of orchestrating the violence in an effort to destabilize the fractious nation.