Italian government up in arms over use of Michelangelo's 'David' in gun ad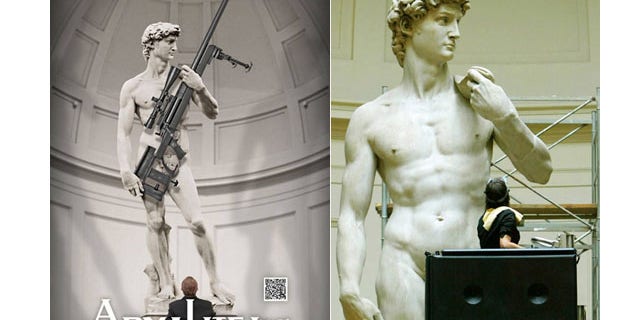 An Illinois-based gunmaker has incurred the wrath of the Italian government after using Michelangelo's famous sculpture of the Biblical hero David in an advertisement for one of its rifles.
The advertisement for Armalite's AR-501A shows David holding the gun in lieu of his famous slingshot. The ad's tagline reads "AR-501A: A Work of Art". The ad also alters the statue itself, covering up David's genitalia with a leaf. The real statue makes no such concession to modesty.
Italian Culture Minister Dario Franceschini urged the company to withdraw the advertisement after images of it appeared on several Italian media websites over the weekend. Franceschini tweeted "The image of David, armed, offends and infringes the law. We will take action against the American company so that it immediately withdraws its campaign."
The Italian government claims that it has the copyright to all commercial uses of the marble masterpiece, which was created between 1501 and 1504 and resides in the Accademia Gallery in Florence. The gallery's director, Angelo Tartuferi, told Repubblica newspaper "The law says that the aesthetic value of the work cannot be distorted. In this case, not only is the choice in bad taste but also completely illegal."
Armalite has not made any public comment on the controversy.