Israel's Netanyahu urges greater pressure on Iran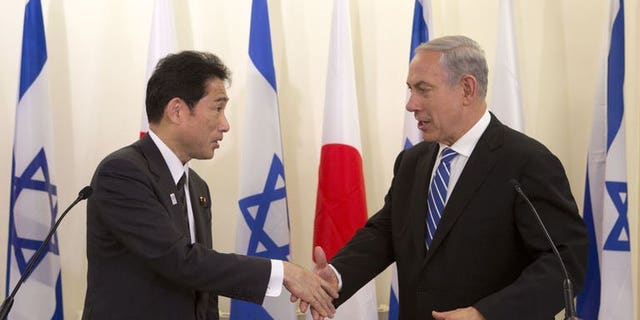 JERUSALEM (AFP) – Israel's Prime Minister Benjamin Netanyahu on Wednesday urged greater pressure on Iran over its nuclear programme as he met Japan's Foreign Minister Fumio Kishida in Jerusalem.
"I think we need to increase the pressure on Iran. Only by doing this will there be real changes in the attitude of that country," Netanyahu's office was quoted him as saying at the meeting.
"Israel and Japan both face states that are developing dangerous nuclear weapons programmes," he said in reference also to North Korea.
"We know perfectly well the threat that irrational and extremist regimes, who wish to gain nuclear arms and ballistic missiles, pose to the security of our states and countries the world over."
Netanyahu on Sunday renewed his threat to take unilateral military action to halt Iran's atomic drive, disparagingly referring to new Iran president Hassan Rowhani as "a wolf in sheep's clothing" who would "smile and build a bomb".
"We're closer than the United States. We're more vulnerable. And therefore, we'll have to address this question of how to stop Iran, perhaps before the United States does," Netanyahu told US television station CBS.
"They're edging up to the red line. They haven't crossed it yet," the Israeli premier said, referring to the point at which Iran would be able to make its first nuclear weapon.
"They're getting closer and closer to the bomb. And they have to be told in no uncertain terms that that will not be allowed to happen."
Rowhani brushed off the threats of military action, saying such warnings only made him "laugh," it was reported on Wednesday.
Israel is the Middle East's sole but undeclared nuclear power.
Iran for years has been at loggerheads with world powers over its nuclear drive, which Western nations and Israel believe is aimed at developing an atomic weapons capability. Tehran insists the programme is entirely peaceful.