Israel's defense minister says sniper who shot Palestinian in viral video 'deserves a medal'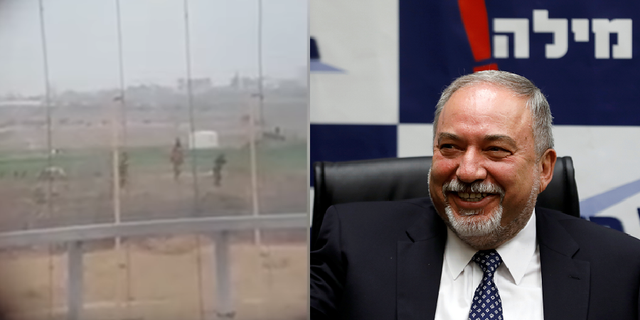 NEWYou can now listen to Fox News articles!
Israel's top defense official praised the sniper who shot a motionless Palestinian near the Gaza fence in a video that circulated widely on Monday, saying he "deserves a medal."
But Defense Minister Avigdor Lieberman also told reporters that the soldier who videotaped the shooting and its aftermath -- including the sounds of soldiers celebrating -- ought to receive a "demerit."
In a statement, the Israeli Defense Forces said that the clip "depicts a short part of the response to a violent riot," adding that the military will thoroughly investigate the circumstances of the shooting.
The IDF, which claims the man was shot in the leg, said the video's contents "do not suit the degree of restraint expected of IDF soldiers" and will deal with the commanders "accordingly."
In the clip, which Israel says was recorded Dec. 22, soldiers appear jubilant after the target goes down, with one saying, "Wow, what a video!"
Lieberman's comment comes amid ongoing clashes at the Israel-Gaza border, which have left at least 26 Palestinians dead and hundreds more wounded by Israeli fire since late March.
The demonstrations are a new attempt by Hamas to break a crippling, decade-old Gaza border blockade by Israel and Egypt that's made it increasingly difficult for the Islamic militant group to govern.
The ongoing protests are expected to continue in Gaza in the coming weeks, culminating on May 15, the 70th anniversary of Israel's creation.
ISRAELI TANKS, SNIPERS DEPLOY ALONG GAZA BORDER
The video, which initially appeared on Israeli television, drew sharp condemnation by Israeli politicians across the political spectrum.
Israeli Arab MP Ayman Odeh tweeted that the footage "horrifies the mind" and suggested that the shooting victim was not a threat.
And the Likud party's Yehuda Glick called it a "very hard video to watch," the BBC reported.