Israeli troops detain AP photographer during West Bank protest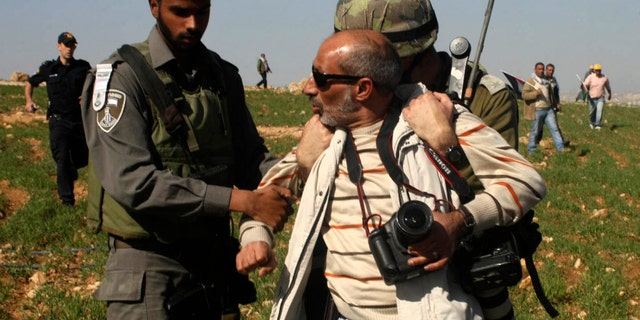 JERUSALEM – Israeli troops detained an Associated Press photographer during West Bank unrest over the weekend, handcuffing him and forcing him to sit on the ground without food or water or access to a bathroom for roughly five hours, according to eyewitness accounts.
The photographer, Nasser Shiyoukhi, was released without charge after Saturday's incident.
Footage of the incident shows Shiyoukhi, 46, snapping pictures a short distance from Israeli security forces who were scuffling with a protester in the town of Yatta. Protesters had erected a small tent camp on what they say is Palestinian land occupied by Israelis.
An Israeli security man is seen grabbing Shiyoukhi from behind. When he tried to free himself, other Israeli forces also grabbed Shiyoukhi and led him away. In the footage, other Palestinian journalists, including a TV cameraman and reporter holding a microphone, continued to cover the incident without being detained.
"The minute we took pictures, they just grabbed me," Shiyoukhi said. "They didn't say it was a closed area."
Israeli Defense Forces said, however, that the military did declare the area a closed military zone because security forces were seeking to prevent the building of an illegal settlement. "Similar to other such cases, the press corps was asked to maintain a certain perimeter," the military said in an emailed statement. "Unlike many of the other reporters, the photographer in question chose to ignore security personnel instructions, impeding their (the security forces) ability to carry out their mission. As a result, he was apprehended and investigated nearby."
Another journalist said the soldiers, when asked for the standard document declaring an area closed, did not produce it.
John Daniszewski, the AP's vice president and senior managing editor for international news, called on the government to investigate the incident.
"We see no reason to forcibly detain a properly accredited news photographer doing his work," Daniszewski said in a statement. "Further, we cannot excuse the harsh treatment after his detention. We call on the government to investigate thoroughly and take appropriate steps so that such incidents will not be repeated in the future."
The Foreign Press Association, which represents international news organizations covering Israel and the Palestinian territories, condemned the violence and called for an investigation.
"This is the latest in a string of incidents involving heavy-handed tactics against journalists who were merely trying to do their jobs," the association said in a statement.
The statement said there have been 10 times in the past year where Israeli forces allegedly used unnecessary force against journalists. The association said just two of the cases were being formally investigated, but the probes remain open.