Israeli strikes kill Hezbollah fighters in Syria, official says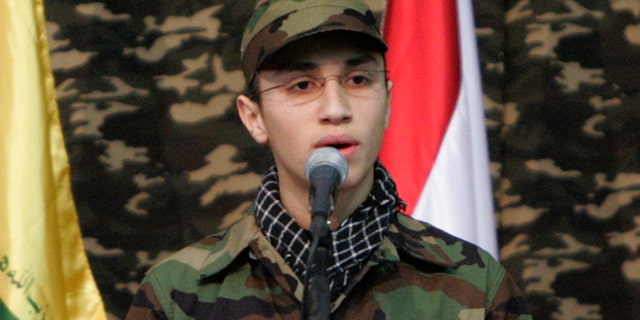 BEIRUT – An Israeli strike in Syria on Sunday killed the son of a slain top Hezbollah commander and another four fighters in a move that could ratchet up tensions with the powerful Lebanese Shiite movement, which recently boasted of rockets that can hit any part of the Jewish state.
Hezbollah fighters in towns and villages along the border with Israel went on high alert, said an official from the group. In the Shiite-dominated areas of south Lebanon and Beirut the streets emptied quickly, as residents feared an escalation. Hezbollah-run al-Manar TV warned that Israel was "playing with fire that puts the security of the whole Middle East on edge."
A Hezbollah official identified one of the five slain men as Jihad Mughniyeh, the son of Imad Mughniyeh, a top Hezbollah operative assassinated in 2008 in Damascus. Hezbollah blames Israel for the killing and has long vowed to avenge his death. The official said the dead included another senior Hezbollah commander, Mohammed Issa, and at least one Iranian national with the group.
The official spoke on condition of anonymity because he was not authorized to brief the media.
The Britain-based Syrian Observatory for Human Rights said the slain Iranian belonged to the Revolutionary Guards. The group, which obtains its information from a network of activists on the ground, said the Israeli strikes hit two vehicles and a home. It said the fighters were in the area to plan attacks along the Israeli-controlled frontier.
Other Hezbollah officials said Sunday's strike targeted two Hezbollah vehicles as fighters were inspecting positions in the Golan Heights, close to the Israeli-controlled frontier, in an area known as Mazrat al-Amal. Israel seized part of the mountainous Golan Heights plateau from Syria during the 1967 Mideast war.
Israel's military did not comment on Sunday's incident.
Jihad Mughniyeh is one of the most prominent Hezbollah officials to die in Syria since the group entered the fray in 2012, fighting alongside President Bashar Assad's forces against the Sunni-led rebellion.
Hezbollah's media wing said "a number" of fighters were killed, but did not provide names.
"While a group of Hezbollah fighters were on a field inspection of the town, Mazrat al-Amal... They faced rocket shelling from helicopters of the Israeli enemy, leading to the martyrdom of a number of holy warrior brothers, whose names will be announced once their honorable families have been informed," it said.
The Hezbollah fighters were in two vehicles when they were hit, said another official who requested anonymity because he wasn't authorized to speak to media.
A Syrian activist said Hezbollah was widely rumored to be training pro-Assad militiamen and Syrian government forces near the area of the strikes. The activist, who uses the name Abu Omar, said the tiny community was close to rebel positions, and that they had obtained the information from people there.
Israel and Hezbollah fought a devastating war in 2006, but since then have largely shied away from direct confrontation. But on Thursday Hezbollah's leader Hassan Nasrallah boasted that the group's rockets could hit any part of Israel and threatened to invade the Galilee region of northern Israel in the next war between the two bitter foes.
But Lebanese political analyst Imad Salamey said Hezbollah's hands could be tied because it is so heavily invested in Syria. "It's an awkward situation," he said.
He said Hezbollah was unlikely to open up a second front in Lebanon while so many of its fighters are bogged down in Syria, and that it would probably not retaliate from Syria because it "invites increasing involvement by Israel to attack its operation inside Syria."
"It does not have much to work with," Salamey said.
Since Syria's conflict began in March 2011, Israel has carried out several airstrikes in Syria that have targeted sophisticated weapons systems, including Russian-made anti-aircraft missiles and Iranian-made missiles, believed to be destined for Hezbollah.
The last such airstrike was in early December, when Israeli warplanes struck near Damascus' international airport, as well as outside a town close to the Syria-Lebanon border.
Jihad Mughniyeh was estimated to be around 25, said a friend who spoke on condition of anonymity because of the subject's sensitivity. The friend said Mughniyeh was one of the Hezbollah fighters tasked with overseeing operations in the Golan Heights.
He was a Hezbollah student activist at the Lebanese American University, and took on a more prominent role after the death of his father. His photograph has been taken with the group's leader Nasrallah, highlighting their closeness.
The officials spoke on condition of anonymity because they were not authorized to speak publicly.