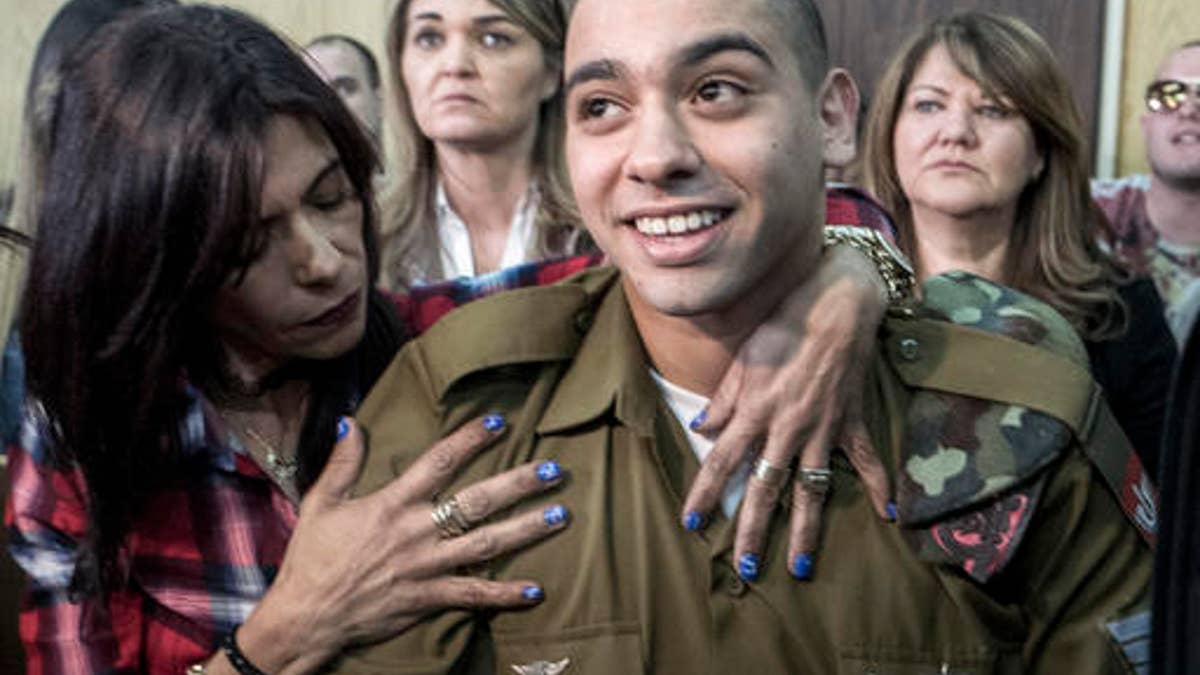 An Israeli soldier was sentenced Tuesday to 18 months in military prison for shooting and killing a Palestinian attacker who had been wounded and motionless on the ground last year.
UNITED NATIONS CHIEF SAYS DECISION TO BLOCK LIBYA ENVOY WAS 'SERIOUS MISTAKE'
The three-judge panel in a Tel Aviv military court also sentenced Sgt. Elor Azaria to a year's probation and a demotion of rank to private. One of the judges held a dissenting opinion asking for a longer prison sentence reflecting the severity of the soldier's actions.
Azaria, then a 19-year-old Israeli army medic, shot the Palestinian man nearly 15 minutes after the attacker tried to stab a soldier in Hebron, in March 2016. A Palestinian human rights activist captured the shooting and the tense moments leading up to it on video, and the footage drew international attention.
NETANYAHU: USA, ISRAEL HAVE 'GRAND MISSION' TO CONFRONT IRAN THREAT
While the military prosecution asked to impose a sentence of three to five years, Azaria's lawyers asked the court to impose only a punishment of "open detention," and Azaria himself pleaded for the court "to be merciful in judging me."
Dozens of his supporters and right-wing activists were gathering outside the courthouse, holding signs and chanting. There was a heavy police presence nearby.
When Azaria entered the courtroom, his family and friends cheered for him. The room was packed with Israeli and international reporters.
Azaria will start serving his imprisonment on March 5, according to the court. Azaria's defense team already declared that it would appeal the sentence.
At the conclusion of the verdict, The Azaria family started singing Israel's national anthem "HaTikva", and told him, "you're a hero!"
Ministers from the ruling Likud party, and other right wing politicians, called for an immediate pardon for Azaria.
"Israel's security demands he be pardoned. Elor was sent to protest Israelis at the height of a wave of Palestinian terror attacks. He cannot go to jail or we will all pay the price," Education Minister Naftali Bennett said.
PLO Executive Committee Member Hanan Ashrawi said the calls for a pardon reflect "the true nature of this government that acts outside the most basic norms of justice, morality and judicial integrity."
Palestinian Israeli lawmaker Yousef Jabareen added, "The sentence does not reflect the severity of the act and it sends the harsh message that Palestinian blood is worthless."
In the face of strong condemnation of Azaria's actions by top military brass including Israel Defense Forces Chief of Staff Gadi Eisenkot and then-defense minister Moshe Ya'alon, far-right supporters and some politicians have accused the defense establishment of abandoning one of its own, making Azaria a scapegoat.