Israeli Official: New Missile-Defense System Shoots Down Palestinian Rocket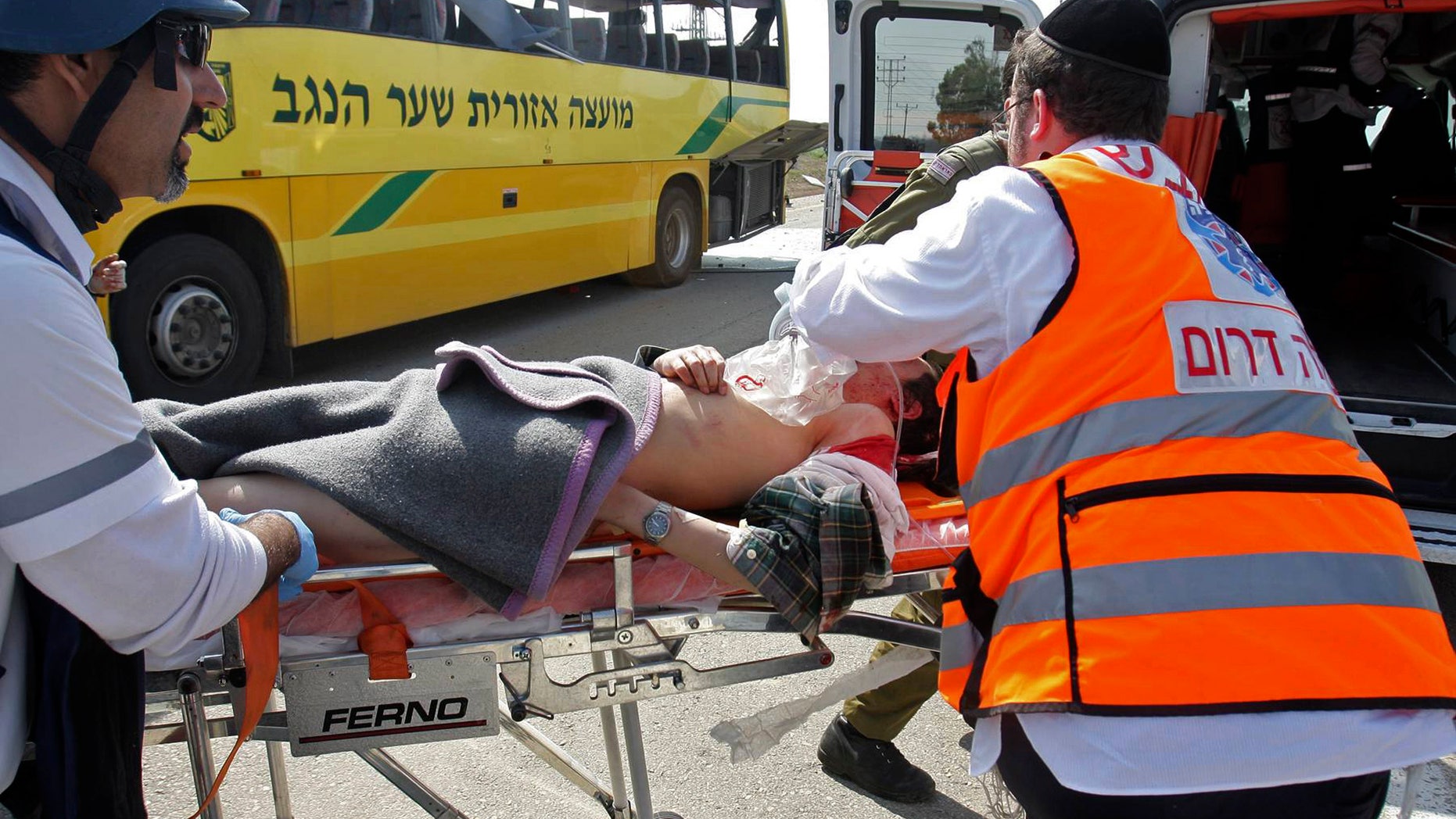 Israel's defense minister says the military has activated a new missile-defense system for the first time, and officials believe it successfully shot down an incoming Palestinian rocket.
Ehud Barak said the Iron Dome fired at a rocket launched from Gaza. He said it appeared to have scored a direct hit, though officials were still waiting for final confirmation.
The Israel-developed Iron Dome system has raised hopes in Israel that the army can find a solution to halt years of Palestinian rocket fire.
Israel deployed the first Iron Dome battery just a few weeks ago as tensions with Gaza militants were rising. Officials have warned the technology is young, and the system will not fully protect Israeli cities.
In what appears to be a clear escalation of the Hamas-Israel cross-border attacks along the Gaza Strip, a possible anti-tank weapon fired by militants hit a school bus that just minutes before had dropped off 30 children.
Two people were wounded in the attack on the bus, including one critically, Israeli officials said. For the next two hours the area came under heavy rocket and mortar attacks from Gaza.
Since the 2009 Gaza war, Hamas, which controls the strip, and Israel have had a hot truce that sees a few rockets a week fired by militants and then a retaliatory strike by Israeli's Air Force on militant training camps. In the past week, Israel stepped up its attacks, killing a suspected Hamas leader in a missile strike on his car and blowing up several key smuggling tunnels.
Israel has been warning that Hamas is accruing more sophisticated weaponry and the damaged bus shows a large hole near the engine consistent with a guided missile. This would be the first time Gaza strip militants have used such a weapon that would have been smuggled into the Gaza Strip presumably from Syria or Iran. Israel recently intercepted a container ship in the Mediterranean Sea containing tons of Iranian weapons it said was destined for Gaza and just a few days ago the country of Sudan accused Israel of a nighttime missile raid from the Red Sea that left at least one accused Hamas leader and a weapons smuggler dead.
Today's attack appears to be coordinated with rocket and mortar teams that shelled southern Israel in the hours after the bus attack, but succeeded only in hitting an empty house.
Within minutes of the attack Israeli jets pounded a number of a Gaza Strip targets, attacks that often also result in civilian casualties.
One series of airstrikes and tank fire against Hamas targets across the border killed five people and wounded 31 others, including four critically, said Palestinian health official Adham Abu Salmiya.
Yesterday a pregnant Palestinian woman was injured during an IDF attack.
Palestinian officials reported that Israeli tanks and bulldozers were positioned on the Israel-Gaza border and that Hamas leader Ismail Haniyeh was making calls to leaders in Egypt, Turkey and Qatar appealing for their intervention.
Prime Minister Benjamin Netanyahu said that Israel will take any action necessary in the Gaza Strip.
"We hope this situation will be contained but we will not shy away from taking all the necessary action, offensive and defensive, to protect our country and to protect our citizens," Netanyahu said, according to Reuters.
Since the 2008-2009 Gaza war both sides have maintained a hot truce with the occasional Kassam and mortar attack breaking the peace in Southern Israel, followed by an IAF strike in Gaza. Both Hamas and the Israelis say they don't want to escalate the situation to another war with sustained rocket fire and an Israeli incursion by ground forces into the Gaza Strip.
However, in the past month the reciprocity multiplier appears to be growing as both sides are responding to each others' attacks.
The Associated Press and Fox News' Leland Vittert contributed to this report.