Israeli Military Strikes Gaza Militants Following Bus Attack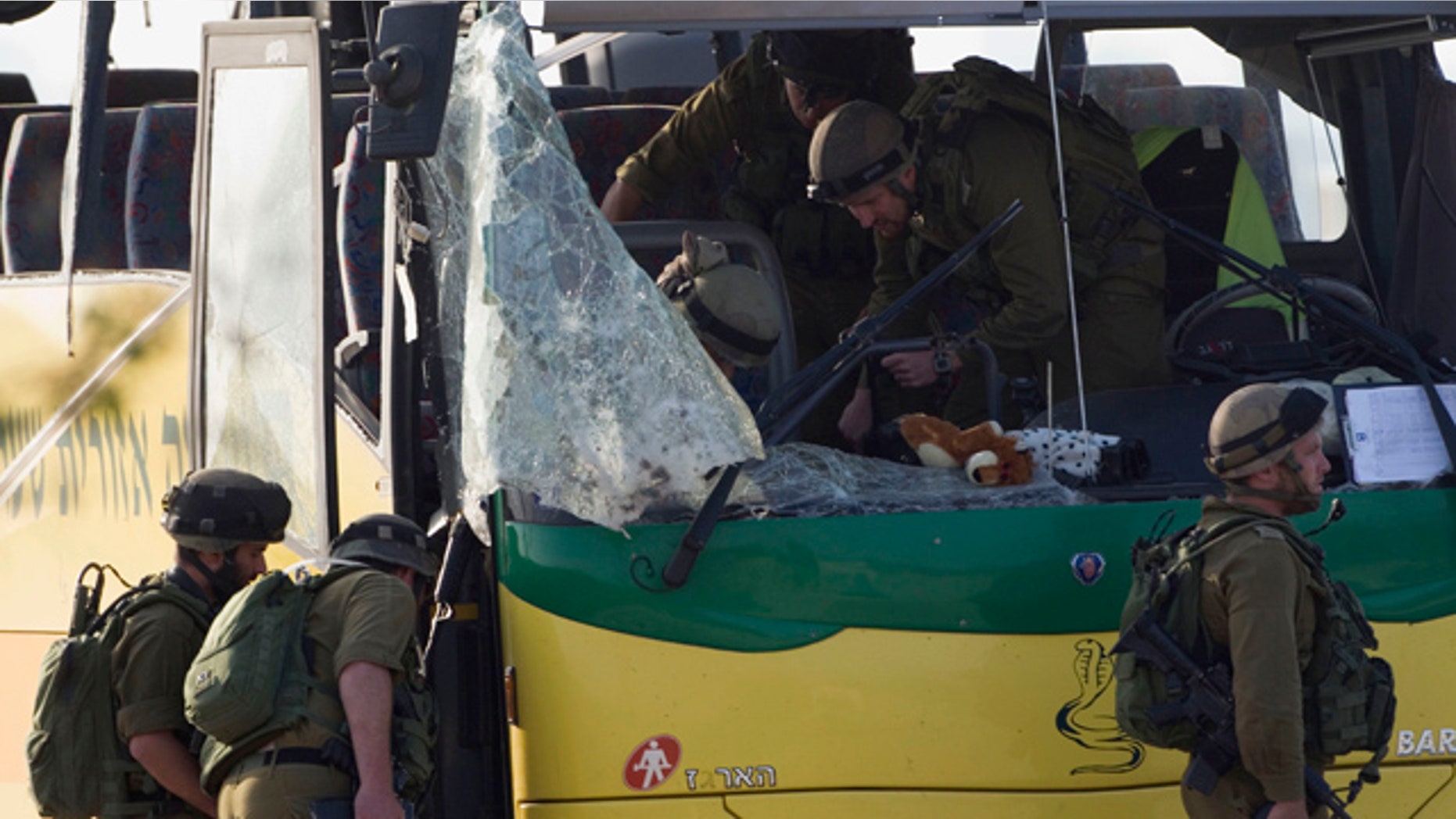 Israeli aircraft and ground forces struck Gaza on Friday, killing three Hamas militants and three civilians in a surge of fighting sparked by a Palestinian rocket attack on an Israeli school bus the day before.
Israel and Gaza's Hamas rulers seemed on the brink of another round of intense violence, just a little over two years after persistent rocket fire from Gaza triggered a devastating Israeli military offensive in the territory.
By Friday afternoon, Israel's ongoing retaliation had killed 11 Gazans -- six militants, a policeman and four civilians -- and wounded 45. The dead Friday included three civilians killed by Israeli tank fire and two militants killed in an air strike, both near the southern Gaza town of Khan Younis. Another militant was killed in an airstrike in northern Gaza.
In Thursday's attack, Gaza militants hit an Israeli school bus near the border with an anti-tank rocket, badly wounding the driver and a 16-year-old boy. Hamas, the Iran-backed militant group that controls Gaza, claimed responsibility for the attack. The boy remains unconscious in the intensive care ward of an Israeli hospital.
"We see Hamas as responsible for everything originating in Gaza, and we expect that Hamas will understand what is allowed, and of course, what is forbidden," Defense Minister Ehud Barak told the Jerusalem Post.
Israeli Prime Minister Benjamin Netanyahu condemned the attacks, saying it "crossed the line."
"Whoever tries to hurt and murder children: the blood is on his hands," he said during a meeting with the Czech president, according to the Jerusalem Post.
At around midnight Thursday, with Gaza rocked by explosions, Hamas announced a cease-fire. The Israeli strikes continued, hitting Hamas facilities and smuggling tunnels.
An Israeli airstrike Friday morning near the town of Khan Yunis killed two Hamas gunmen and wounded a third, according to Hamas. Gaza's Health Ministry said three civilians were wounded.
Palestinian rescue services reported that three other Palestinians were wounded by Israeli tank fire in a separate incident in southern Gaza. It was unclear if they were armed men or bystanders. Electricity lines and transformers were damaged, causing power blackouts in some parts of the territory, according to Jamal Dardsawi, a spokesman for Gaza's Electric Distribution Company.
In Israel, studies at some schools near Gaza were canceled Friday because of concerns for the students' safety.
Matan Vilnai, the Israeli Cabinet minister in charge of the home front, told Army Radio that Israel was engaged in a "war of attrition."
"We are acting as we see fit so that this type of fire will not continue, and so that the people behind the fire will regret it," Vilnai said.
U.N. Secretary-General Ban Ki-moon on Friday condemned the bus attack and expressed concern over civilian casualties in Israel's strikes in Gaza. He called for "de-escalation and calm to prevent any further bloodshed."
The new round of fighting saw a potentially significant strategic breakthrough.
After years of development by an Israeli defense contractor, the Israeli military activated a new cutting-edge missile-defense system for the first time Thursday. The Iron Dome system scored a direct hit on an incoming Palestinian rocket aimed at an Israeli city, shooting it down, Israel said.
Thousands of rockets from Gaza have hit Israeli towns and cities since 2001. Israel's attempts to stop the rockets have included military incursions -- including a three-week assault than began in late 2008.
The Associated Press contributed to this report.