Israel to release first group of Palestinian prisoners next week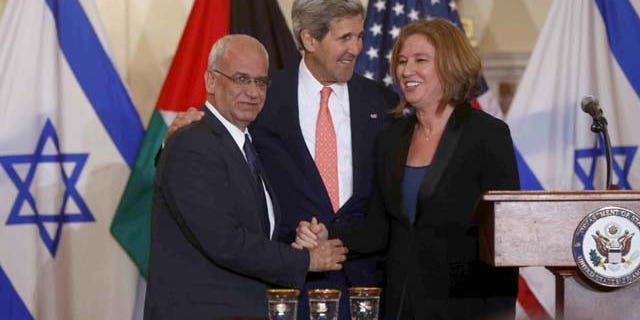 RAMALLAH, West Bank – Israel will free next week the first of four groups of long-held Palestinian prisoners slated for release as part of a deal to restart peace talks, the chief Palestinian negotiator said Sunday.
Israel agreed in principle to release 104 veteran prisoners in a U.S.-brokered agreement that cleared the way toward resuming peace talks with the Palestinians after a five-year freeze.
Negotiations began in Washington last week, and are to continue in Jerusalem next week.
Palestinian negotiator Saeb Erekat said in a statement that 26 prisoners will be freed Aug. 13.
Israel's chief negotiator, Tzipi Livni, told Israeli television Saturday that the first group of Palestinian prisoners will be released sometime before negotiations resume next week. Livni did not specify the number of prisoners Israel would release.
An Israeli government spokesman declined comment.
The U.S. wants a deal on the terms of a Palestinian state within nine months. The Palestinians fear Israel will seek only an interim agreement. Erekat said in his statement that such a partial deal is unacceptable.