Israel Sanctions Lawmaker on Gaza-Bound Ship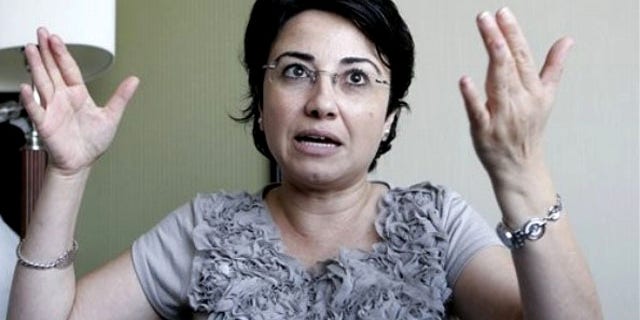 The Israeli parliament sanctioned an Arab lawmaker on Monday for taking part in an international flotilla that tried to break Israel's naval blockade of the Gaza Strip, expelling her from parliamentary activities for two weeks.
Hanin Zoabi's punishment came as pro-Palestinian activists on a separate protest ship trying to reach Gaza said they expected to arrive within the next 24 hours.
The vessel, the Dignity al-Karama, is the only ship remaining from a larger protest flotilla that had hoped to sail weeks ago but was blocked by Greek authorities. Sixteen activists and journalists are aboard the French-based ship.
Thomas Sommer, an activist on board the vessel, said it was traveling slowly in international waters and aimed to reach Gaza after daybreak Tuesday. The ship's location could not be independently confirmed.
"We are taking our time. We want to arrive tomorrow, when it is daytime," he said.
The Israeli military has said it will stop any attempt to break the sea blockade of Gaza.
During last year's flotilla, Israeli naval commandos clashed with knife and club-wielding activists on a ship trying to reach Gaza, killing nine Turkish activists. Both sides have said they acted in self defense.
Israel imposed the embargo in 2007 after Hamas militants seized control of Gaza. It says the measure is needed to prevent weapons from reaching Hamas.
But critics say the blockade has failed to weaken the militant group and caused heavy damage to the economy in what they say is collective punishment of Gaza's 1.6 million people. Activists on the Dignity al-Karama say the goal of their mission is to make a political statement against the blockade.
Zoabi, who was on board the ship last year that was stormed by Israeli forces, came under heavy criticism in Israel for joining the flotilla.
The 42-year-old, who is an outspoken critic of Israel, was nearly attacked on the floor of parliament and called a traitor after the incident. Shortly after, she was stripped of parliamentary privileges, including her diplomatic passport.
On Monday, the parliament's ethics committee approved additional sanctions, saying her actions "harmed national security and were inconsistent with the legitimate conduct of a lawmaker."Zoabi said the punishment is politically motivated and meant to silence her legitimate criticism.
"The only question should be if I broke laws or didn't break laws," Zoabi told Israel Radio. "The parliament is turning into a kangaroo court."
Zoabi is also under fire for an alleged assault of a parliamentary usher last week after she was ejected from parliament for repeatedly interrupting a speech by Prime Minister Benjamin Netanyahu.
Video showed Zoabi stomping a foot in the direction of the female usher and shoving her as she was being removed. Zoabi denies she assaulted the usher.
Zoabi has irked Israel before by calling it a racist state and boycotting the national anthem when she was sworn into parliament two years ago.
Israel's Arab minority makes up some 20 percent of the country's population, and relations with the Jewish majority are often rocky.