Israel readies for upcoming visit of Philippines president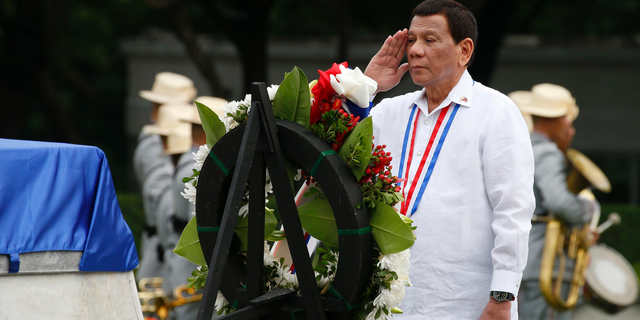 NEWYou can now listen to Fox News articles!
JERUSALEM – Israel is gearing up for the first visit of a Philippine president to the country, the Foreign Ministry said Friday, welcoming Rodrigo Duterte who in the past compared his bloody anti-drug crackdown to Hitler and the Holocaust.
Duterte is set to meet with Prime Minister Benjamin Netanyahu, visit the Yad Vashem Holocaust memorial and attend an event of the Filipino community in Israel during his three-day visit that begins Sunday.
"We assign great importance to this visit, which symbolizes the strong, warm ties between our ?two peoples as well as the enormous potential for developing and strengthening the relations. ?Cooperation between the two countries is thriving," Israel's Foreign Ministry said in a statement.
It said over 150 Philippine entrepreneurs are accompanying Duterte.
Duterte drew outrage in 2016 when he compared his anti-drug campaign to the Nazi genocide of Jews in World War II and said he would be "happy to slaughter" 3 million addicts. He later apologized.
Duterte is scheduled to visit a monument commemorating the Philippines' rescue of Jews during the Holocaust and meet two survivors rescued by the country, the Foreign Ministry said.
Official Philippine police tallies place the number of suspects killed in police-led anti-drug raids at more than 4,500 since Duterte took office in June 2016. International human rights watchdogs have cited far higher death tolls.
Duterte, a 73-year-old former government prosecutor, denies condoning extrajudicial killings but has openly threatened drug dealers with death.
Earlier this week, relatives of several people slain in the president's anti-drug campaign asked the International Criminal Court to prosecute him for alleged crimes against humanity, in the second such request for a ruling on thousands of deaths that have occurred during the crackdown.