Israel must support Egypt's army, official says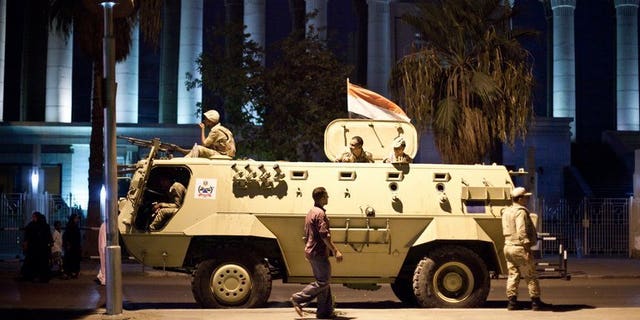 JERUSALEM (AFP) – Israel and the West must support Egypt's army, an Israeli official said Monday, after 24 Egyptian policemen were killed in an attack in the Sinai bordering the Jewish state.
The unnamed official's comments in an Israeli daily came a day after a New York Times report that Israel would press Western powers to support the military in unrest-swept Egypt.
By "not taking things away from them (the army), not harming or threatening them," the US and EU could help Egypt "get back on track," the Jerusalem Post quoted the official as saying.
"The name of the game right now is not democracy," he added.
"The name of the game is that there needs to be a functioning state. After you put Egypt back on track, then (you can) talk about restarting the democratic process there."
Egypt's unrest has heightened Israeli concern, especially due to Islamist violence in the increasingly lawless Sinai Peninsula, which borders both the Jewish state and the Gaza Strip.
Israel and Egypt, which in 1979 became the first Arab state to sign a peace treaty with the Jewish state, coordinate closely on military activity in the Sinai.
Militants fired rocket-propelled grenades at two buses in the Sinai early on Monday killing 24 Egyptian policemen.
It was the deadliest attack of its kind in years and raises fears of a return to the wave of deadly violence linked to Islamist groups that swept Egypt in the 1990s.
On August 13, Islamist militants fired a rocket from the Sinai at Israel's Red Sea town of Eilat, claiming it was retaliation for an alleged Israeli drone strike on jihadists in the Sinai.
The Islamists accused the Egyptian army of coordinating the attack with Israel and threatened more strikes against the Jewish state.
US President Barack Obama last week cancelled joint military exercises following hundreds of deaths in a crackdown on supporters of ousted Islamist president Mohamed Morsi.
But Washington has not suspended military aid to Egypt, a key Middle East ally.
The administration has refused to call Morsi's overthrow a "coup," which would legally require it to cut off aid, saying it hoped to steer the country towards a democratic transition.
Thirty-six Islamist prisoners were killed Sunday during an attempted jailbreak in Egypt, police said, bringing to almost 800 the death toll in five days.
The bloodshed in Egypt has drawn widespread international condemnation, with senior European Union diplomats holding emergency talks on Monday to discuss future EU action.
Egyptian police and the military launched their crackdown last Wednesday with an operation to clear pro-Morsi demonstrators from protest camps in Cairo.