Israel health official says ultra-orthodox Rabbi Ovadia Yosef in hospital after feeling unwell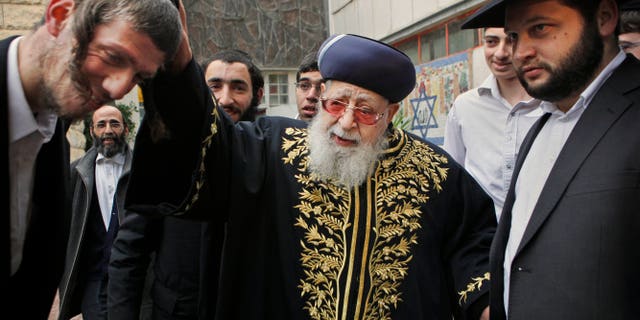 JERUSALEM – The influential spiritual leader of an Israeli ultra-orthodox political party was hospitalized in Jerusalem on Saturday after feeling unwell, a hospital official said.
Rabbi Ovadia Yosef, in his nineties, is conscious and in a stable condition, spokeswoman Etti Dvir said, adding that doctors had requested he remain hospitalized for several days for observation and further checks.
Dvir would not say what ailment the Rabbi suffered, citing patient-doctor confidentiality. "He is conscious, awake," Dvir said.
The enigmatic, Baghdad-born Yosef is the chief spiritual adviser of the Shas party, which represents Israeli Jews of Middle Eastern descent. But Yosef's influence reaches beyond the party, which holds 10 seats in the 120-seat Israeli parliament.
Comments from Yosef, with his trademark turban, gold-embroidered robes and dark glasses, often set the tone in political debate, and his endorsement or rejection carries a heavy clout.
For example, in 2008, Shas under his direction forced new elections by refusing to remain in the government after then, prime minister Ehud Olmert resigned.
Olmert's successor, Tzipi Livni, was unable to preserve a governing coalition because Yosef sought her word that she would not discuss the future of Jerusalem in future peace talks with Palestinians.
His undiplomatic and occasionally abrasive comments about Palestinians also cast a pall over previous rounds of negotiations aimed at carving out an independent Palestinian state.
Politicians from outside Yosef's party often lobby for his support on controversial decisions, including whether to target arch-foe Iran.
Despite often hawkish political stances that have offended holocaust survivors, gays and military officials, Yosef has signaled he would support Israel's withdrawal from the West Bank, a territory Palestinians seek for their future state, if it saves lives.
So far, it is unclear if his ailing health will affect Shas' fortunes in upcoming Israeli elections. The party was predicted to recoup its seats when Israelis vote later in January.
Yosef has been hospitalized with heart problems in the past.
Members of Yosef's Shas party were unavailable for comment because it is the Jewish Sabbath, when the devout refrain from non-lifesaving work.