Israel accuses Iran of bombings in Georgia, India while Iran rejects claims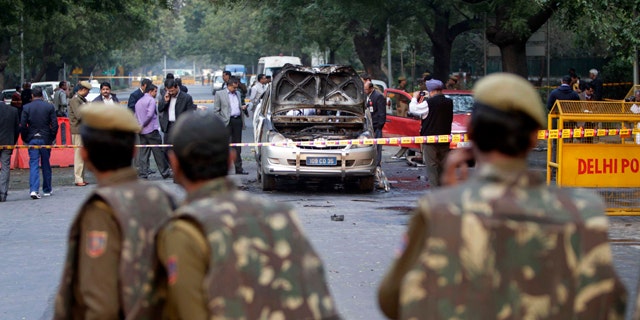 JERUSALEM – Assailants targeted Israeli diplomats in India and Georgia in near-simultaneous strikes Monday that Israeli Prime Minister Benjamin Netanyahu blamed on archenemy Iran and its Lebanese proxy, Hezbollah. Iran denied responsibility for the attacks.
The bombs, which wounded four people, threatened to ratchet up already high tensions between Iran, which has been accused of developing a nuclear weapons program, and Israel, which says such a program would be an existential threat to the Jewish state.
The violence came as recent comments by Israeli officials have raised concerns Israel might be preparing an imminent strike on Iranian nuclear facilities. U.S. and other Western countries have been pressing Israel to give sanctions more time.
Tehran already has accused Israel of covert attacks on its nuclear program, including assassinations of top nuclear officials and scientists.
Monday's attacks appeared to have been carried out with sticky bombs attached to cars by magnets. Similar weapons were used against Iran's nuclear scientists, feeding suspicions that the new bombings were a retaliation crafted to mirror those attacks.
"Today we witnessed two attempts of terrorism against innocent civilians," Netanyahu told lawmakers from his Likud Party. "Iran is behind these attacks and it is the largest terror exporter in the world."
In India, an assailant on a motorcycle apparently attached a bomb to an Israeli diplomat's vehicle and it quickly exploded, officials said. Israel said an attempted car bombing in Tbilisi, Georgia, was thwarted. Netanyahu also said Israel had thwarted attacks in recent months in Azerbaijan and Thailand and unspecified other countries.
"In all those cases, the elements behind these attacks were Iran and its protege, Hezbollah," he said, vowing to "act with a strong hand against international terror."
India's home minister has vowed to find the assailants.
Palaniappan Chidambaram told reporters Tuesday that the bombing appeared to be a terror strike carried out by a well-trained attacker. He declined to assign responsibility to any country or organization for the attack.
Iranian officials rejected Netanyahu's accusation as unfounded.
"This accusation is within the Zionist regime's psychological war against Iran," the official IRNA news agency quoted Foreign Ministry spokesman Ramin Mehmanparast as saying.
"The Zionist regime, due to repeated crimes against humanity, is the main party accused of terrorist activities," he said, according to IRNA.
Both Hezbollah and Iran have deep grievances against the Jewish state.
Hezbollah battled Israel in a monthlong war in 2006, and on Sunday, the Lebanese guerrilla group marked the anniversary of the 2008 assassination of one of its commanders, Imad Mughniyeh, in a bombing widely believed to have been carried out by Israel. Iran suspects Israeli involvement in attacks on its nuclear program.
The New Delhi attack took place just a few hundred yards from the prime minister's residence as the diplomat's wife was heading to the American Embassy School to pick up her children, said Delhi Police Commissioner B.K. Gupta.
When the car approached a crossing, she noticed a motorcyclist ride up and stick something on it that appeared to be a magnetic device, he said.
The car drove a short distance, there was a loud sound and then an explosion and the car caught fire, he said.
"It was a loud explosion. We realized it's not a firecracker, but an explosion, and rushed toward the car," said Ravi Singh, owner of a nearby gas station.
"The blast was so powerful, the car behind got damaged as well," said Monu, a high school student who uses only one name.
The blast left a charred minivan with blue diplomatic plates, its rear door apparently blown out.
The Israeli Defense Ministry said the woman, Tal Yehoshua-Koren, suffered moderate shrapnel wounds and was being treated at a hospital by Israeli doctors. It identified her as the wife of a Defense Ministry official based in New Delhi.
Her driver, Manoj Sharma, 42, and two people in a nearby car had minor injuries, Gupta said.
Israeli diplomats in India have been on constant alert since Pakistan-based militants rampaged across the Indian city of Mumbai in 2008, attacking luxury hotels, the main train station and killing six people in the Chabad Jewish community center.
India's foreign minister, S.M. Krishna, said India would cooperate closely with Israel in the investigation and promised to bring the assailants to justice.
"I have just spoken to the Israeli foreign minister," he said. "I assured him that the law of the land will take its course."
Authorities in the former Soviet republic of Georgia said an explosive device was planted on the car of a driver for the Israeli Embassy.
Shota Utiashvili, spokesman for the Georgian Interior Ministry, said the driver noticed a package attached to his car's undercarriage and called police.
Police found a grenade in the package and it was defused, Utiashvili said.
U.S. Secretary of State Hillary Rodham Clinton condemned the attacks.
"The United States places a high priority on the safety and security of diplomatic personnel around the world and we stand ready to assist with any investigation of these cowardly actions," she said.
British Foreign Secretary William Hague, in South Africa, also said he was appalled by the attacks and called for a full investigation.
In what appeared to be a precautionary move, Israel's ambassador to Egypt was held in the VIP lounge at Cairo's airport for four hours while police dogs sniffed two embassy cars waiting for him. He later left for home under tight security and the lounge was thoroughly searched by police.
Iran is suspected of looking for payback over covert plots it has blamed on Israel's spy agency Mossad and Western allies.
"There have been all kinds of mysterious things happening in Iran, and it could be an Iranian counterattack," said Mike Herzog, a retired Israeli general and former top aide to Israeli Defense Minister Ehud Barak. "It's no secret that Iran uses Hezbollah globally, and Hezbollah has the capacity to carry out attacks around the globe."
Were Iran behind the New Delhi attack, it would be a stunning violation against one of its stronger allies.
Indian Prime Minister Manmohan Singh has resisted U.S. and EU pressure to curtail trade with Iran over the nuclear issue. Energy-starved India relies heavily on Iranian oil imports and the two countries are working to find creative ways for India to pay for the oil by using rupees and investing in Iranian infrastructure projects.
Israel, like the West, accuses Iran of pursuing nuclear weapons and has urged the international community to consider all means, including military action, to stop Tehran. Iran says its nuclear program is for peaceful purposes only.
Last month, a director of Iran's main uranium enrichment site was killed in a blast from a magnetic bomb placed on his car. The official, Mostafa Ahmadi Roshan, was at least the fifth member of Iran's scientific community killed in apparent targeted attacks in the past two years.
Iran blamed Israel. IRNA said later it had "evidence" of alleged U.S. and British involvement in the Roshan killing.
In a signal Iran could retaliate, Gen. Masoud Jazayeri, the spokesman for Iran's Joint Armed Forces Staff, was quoted by the semiofficial news agency ISNA last month as saying that Tehran was "reviewing the punishment" of "behind-the-scene elements" involved in the assassination.
"Iran's response will be a tormenting one for supporters of state terrorism," he said, without elaborating. "The enemies of the Iranian nation, especially the United States, Britain and the Zionist regime, or Israel, have to be held responsible for their activities."
Clinton "categorically" denied any U.S. links to "act of violence inside Iran." Israel has made no direct comments about Iran's accusations of covert operations, but some officials have made provocative hints that Tehran's many foes could have an interest in efforts to destabilize its nuclear program.
Iran also has blamed the U.S. and allies for a sophisticated computer virus, known as Stuxnet, that was programmed to disrupt the centrifuges used in uranium enrichment. Iran said the virus was detected in its systems but added no serious setbacks occurred.
In January, a foreign suspect with alleged links to Hezbollah militants led Thai police to a warehouse filled with materials commonly used to make bombs. Police seized more than 8,800 pounds of urea fertilizer and several gallons of liquid ammonium nitrate at the warehouse in Samut Sakhon, on the western outskirts of Bangkok.
In January 2010, assailants detonated a roadside bomb near a convoy of cars carrying Israeli diplomats in Jordan. No one was hurt, and there was no claim of responsibility.
In 1992, a bombing at the Israeli embassy in Buenos Aires killed 29 people. Two years later, a bombing at a Jewish community center in that city killed 85 people.
Argentines have long suspected high-level Iranian diplomats were involved in the 1994 bombing.