Islamist Militias Withdraw From Famine-Struck Somali Capital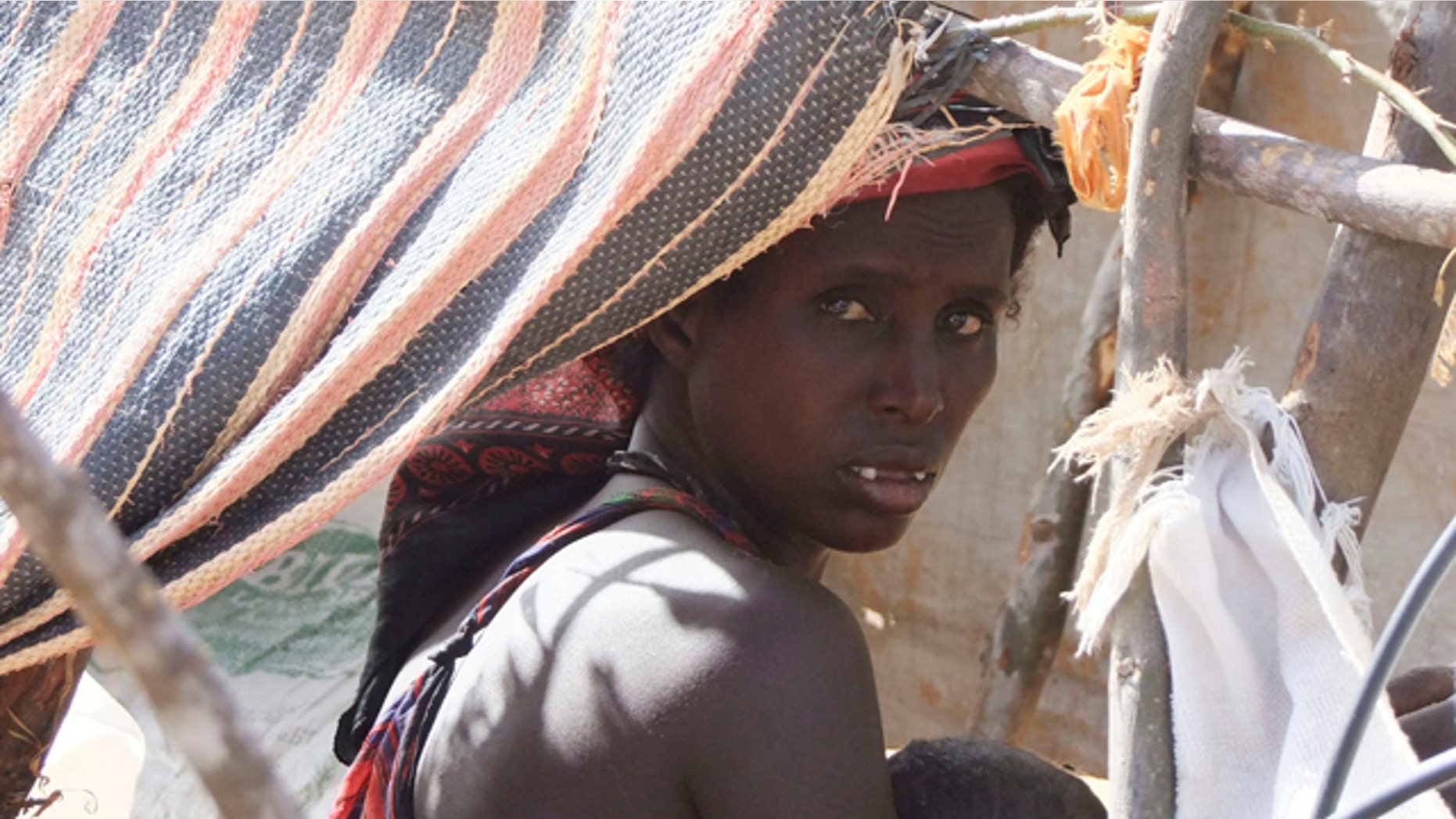 MOGADISHU, Somalia – Islamist fighters withdrew overnight from almost all their bases in the famine-struck Somali capital, the most significant gain for the embattled U.N.-backed government in four years. Commanders toured newly abandoned positions Saturday, including a former sports stadium where the militia's tire marks were fresh in the grass.
The militants have denied many aid agencies access to their territory and their presence in the capital has complicated famine relief efforts. The government said humanitarian agencies now were welcome to come and distribute aid, but many still insist on serving only precooked rations at guarded kitchens.
"It is of major significance, but the war is not over yet," said Somali Defense Minister Hussein Arab Esse as he stood amid the rubble and graffitied walls of the stadium.
Tanks belonging to the African Union peacekeeping force surrounded the former militia base as gunfire crackled outside. Government soldiers draped in bandoliers of bullets lounged on smashed concrete pillars, staring as Somali and AU officials embraced.
Somalia has been a failed state for more than 20 years. Its lawless wastes are a haven for pirates and international terrorists and the conflict has caused two major famines. Hundreds of thousands starved to deaths in 1992 and the current emergency is believed to have cost tens of thousands of lives already. It is set to worsen, partly because the Islamists, who call themselves al-Shabab, have banned many aid workers.
Al-Shabab controlled around a third of the capital until Saturday morning. They carried out public amputations and executions, and forcibly recruited children as fighters. They still hold most of southern Somalia, where tens of thousands are estimated to have starved. Desperate families are streaming into the capital from the country and setting up shelters made from twigs and tattered plastic bags.
Sodio Omar Hassan, who was seeking treatment for her child's malaria at a free hospital set up by AU peacekeepers, said people were incensed because al-Shabab had refused to allow aid agencies to distribute food.
"People are angry now they are dying," she said, as other patients nodded around her. "They (al-Shabab) don't bring us anything."
A year ago, even mentioning the word al-Shabab in the heavily guarded hospital -- one of the most secure places in Somalia -- would make patients fall silent or hide their faces. But in recent interviews with The Associated Press, men and women fleeing the famine gathered around to denounce the militia, which they said had tried to prevent families from seeking help, and stopped and sometimes killed the male family members.
"They tried to stop us so we came the back way around," said Mumino Bury Adan, waving her hands to demonstrate how she weaved through the streets with her three children into government-held territory. "They don't want to give us food and people do not agree. They just want us to stay there and die."
More than 12 million people in the Horn of Africa are in need of immediate food aid, including nearly half the Somali population. The U.N. says 640,000 children are acutely malnourished in Somalia, where the U.N. has declared five famine zones, including the camps for displaced people in Mogadishu.
There have been two deadly shoot-outs in the past week after aid agencies tried to hand out sacks of food. Both incidents involved government forces, some of whom are poorly trained and disciplined.
It's still unclear why the militia retreated or what its next move will be. There are several possible reasons: the drought and the movement of population away from areas it controls; the diversion of foreign fighters and funding to the Arab Spring; or infighting among its top leadership. It could simply be a change of tactics by a heavily outgunned force to a guerilla-style campaign of suicide bombings and hit and run attacks.
Al-Shabab spokesman Ali Mohamed Rage told a local radio station that the forces had made a tactical withdrawal and would soon launch a counter attack.
"We shall fight the enemy wherever they are," he said.
The militia's withdrawal appeared orderly and coordinated, following a four-hour assault on several AU positions overnight. Witnesses spoke of seeing large numbers of al-Shabab fighters moving in vehicles or on foot with their weapons.
Mohammed Ali said he saw about 150 al-Shabab fighters leaving the northwest part of the capital. He said they may have left town due to a lack of money and disagreements between top leaders, explaining that he had an insight into the militia because "our brothers are that side."
Somali Prime Minister Abdiweli Mohamed Ali estimated the militants now have vacated 90 percent of the capital and said forces were checking the rest. Ali said the government wants to send security forces into the new areas vacated by al-Shabab, describing the withdrawal as the "first phase of the new war."
In recent years, the Somali government has made little effort to provide services to its citizens despite receiving tens of millions of dollars in cash from foreign donors. Ali said he would declare such donations in the future, making it easier to see how the government was spending the money.
Lt. Col. Paddy Ankunda, a spokesman for the 9,000-strong AU force, said the al-Shabab has melted into the population and will become more difficult to deal with. Since it was born from the ruins of another radical Islamist group in 2007, al-Shabab has never abandoned Mogadishu entirely.
"We need more troops now than ever before the area has become too big for the force to cover," Ankunda said, looking out at the ruined city from behind a thick pane of bulletproof glass.