Islamic Jihad chief dies after clash with Hamas police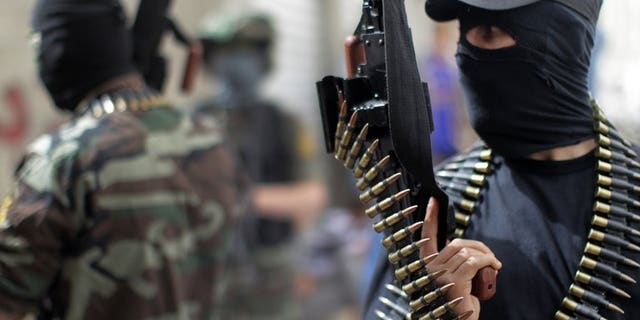 NEWYou can now listen to Fox News articles!
GAZA CITY, Palestinian Territories (AFP) – Islamic Jihad severed contacts with the Hamas rulers of Gaza Sunday after a commander in its military wing died of wounds sustained in a police shooting, a leader of the radical group told AFP.
"Islamic Jihad today suspended its contacts with Hamas after police opened fire yesterday (Saturday) on one of the commanders of the Al-Quds Brigades, Raed Jundiya, 38, inflicting serious injuries from which he died this morning," the Jihad leader said.
Speaking on condition of anonymity, he said the Hamas police bore "full responsibility for Jundiya's death".
In a statement, Islamic Jihad's military wing said: "Raed Jundiya today succumbed to the wounds he sustained yesterday when Gaza government police shot him in the head in his home.
"The murder of Raed Jundiya represents a major service to the Zionist enemy, provided completely free of charge, whether deliberately or not, because the martyr was, as everybody knows, on the top of the Zionists' hit-list as he headed the Brigades' rocket unit."
Jundiya's family said the pathologist's report confirmed he had died of wounds caused by Hamas police bullets.
Hamas government spokesman Ihab al-Ghussein said: "I hope everyone will await the results of the commission of inquiry which has begun its work."
Hamas spokesman Sami Abu Zuhri said "contacts are continuing between Hamas and Islamic Jihad, which have strong ties".
The interior ministry said Jundiya had opened fire on police, prompting them to respond.
Islamic Jihad claims to have 8,000 fighters in its military wing, making it the second largest armed group in Gaza behind only Hamas itself.
Unlike smaller Salafist factions, Islamic Jihad has respected the Egypt-brokered truce between Hamas and Israel that ended eight days of deadly conflict last November.