ISIS victims in Iraq, Christians and Yazidi, desperately need global aid, Vatican says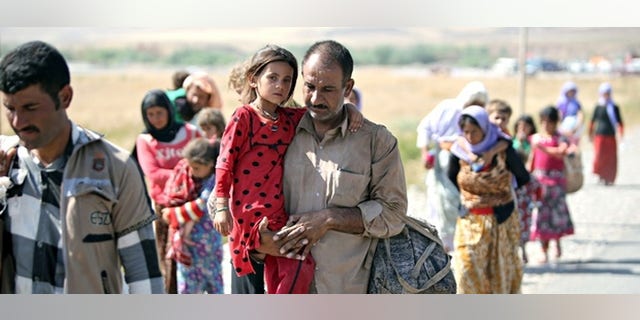 The Vatican is using its U.N. position to challenge the world to rescue Iraq's and Syria's Christians and Yazidis, victims of horrendous Islamic State persecution and now on the verge of extinction.
In a U.N. forum sponsored by the Holy See Mission last Thursday titled, "Peace, Reconciliation and Justice for the religious and ethnic minorities victimized by Daesh [ISIS]," two survivors retold the horrors they suffered at the hands of ISIS militants who devastated communities in Syria and in Iraq's Nineveh Plain.
Ekhlas Khudur Bajoo, a now 17-year-old Yazidi survivor from Iraq, was kidnapped by ISIS when the terror group raided her village in August 2014. The girl, who watched ISIS murder her father, was raped repeatedly and faced humiliation every day during her six-month captivity. She was also sold as a sex slave. She attempted to escape three times and experienced horrific beatings after each time she failed. Finally, on her fourth try, she succeeded.
"I promised myself after that day that I would not stop until I brought justice," Bajoo said at the forum. "I am fighting for all women, not just Yazidi women -- but for all women of all religions and all groups who are victims of ISIS."
Bajoo is just one of many who have called on the international community to acknowledge that ISIS persecuted and committed genocide against Christians and Yazidis.
"We want justice and accountability for those perpetrators who raped me and my sisters and took our honor," she added. "Come and hold my hand. I plead with you to stand with us. We want to feel humanity wipe our tears, to heal our wounds, to bring back the smiles on our faces, and to bring back the girls that are still in captivity."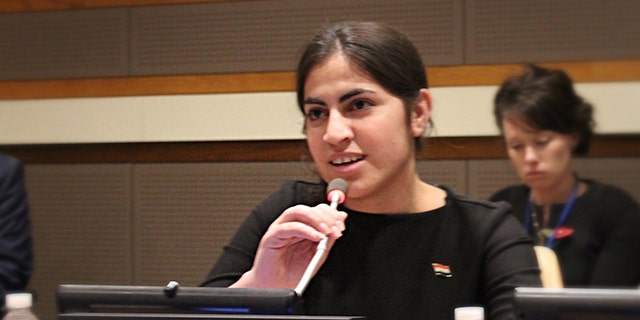 One man, who only gave his name as "Gabi" and wore a disguise during a video message because his family's safety is still threatened in Syria, recalled his one month in ISIS captivity.
He was on a bus from Aleppo when he and two other Christian men were kidnapped, stripped, robbed and interrogated before being held captive where they were psychologically and physically tortured.
"They started beating and kicking me and afterward they scourged me for an hour," he said during his video, which was recorded in Europe, where he has found refuge.
Four days into his captivity, he was taken to a nearby village where he was to be beheaded in front of a cheering crowd.
"[They were] rejoicing at the killing of an infidel Christian," he said during the testimony. "I knelt and waited for over 10 minutes to be executed."
At the last minute, the leader of the ISIS unit allowed him to live if he paid jizya, a tax that ISIS imposed on non-believers. ISIS often used jizya as a form of extortion.
Weeks later, Gabi, who was blindfolded, hands tied and an explosive belt tied around his waist, was finally freed after the ransom was received.
The two testimonials underscore what supporters say is the urgent need for the global community to assist in rebuilding, repopulating and stabilizing the region.
"While we tragically did not stop their sufferings, we can act to bring justice for them and other victims, help them to rehabilitate and rebuild, and do everything we can to prevent similar barbarity from happening to others," Archbishop Bernardito Auza, permanent observer of the Holy See to the U.N., said in his opening remarks. "While we tragically did not stop their sufferings, we can act to bring justice for them and other victims, help them to rehabilitate and rebuild, and do everything we can to prevent similar barbarity from happening to others."
The Nineveh Plain, also known as the Plain of Mosul, has been the ancestral homeland of Assyrian-Chaldean-Syriac Christians, Yazidis and other minorities -- all of whom were under attack from ISIS once the terror group started to control the region in 2014.
The Christian population in Iraq has plummeted to 275,000 from 1.5 million in 2003, according to current estimates. It is feared the population could be permanently gone within five years, if no action is taken, according to a November 2015 report from Aid to the Church in Need, an international Catholic charity.
It has been estimated that a dozen Christian families fled Iraq each day during the ISIS occupation of the northern half of the country. Christians who have managed to escape ISIS have fled to Europe and Lebanon. Others simply wandered the region avoiding U.N.-operated refugee camps for fear that Muslim refugees in the camps would target them.
Many of those who have been displaced want to return to their homeland and see the Nineveh Plain as the cradle of their faith. Now, approximately 100,000 are starting to return to villages throughout the region.
"Their history is millennia, but their presence in the region is even older," Edward Clancy, director of outreach for The Aid to the Church in Need, which also presented at the forum, told Fox News.
Clancy also says that the key to stabilizing the region is an estimated $250 million, with $125 million to rebuild the villages and cities left decimated by ISIS and the other half going toward creating institutional structures like schools and hospitals and rebuilding infrastructure.