ISIS says suicide bomber was fighter before migrating to Germany
Islamic State said that the Syrian refugee who carried out a suicide bombing in Germany this week was a fighter for the extremist group before migrating to Europe and that he launched the attack with help from a second operative.
An obituary published late Tuesday in Islamic State's al-Naba newsletter said Mohammad Daleel fought with the militant group in Iraq and then Syria before being wounded on the battlefield. He then traveled abroad for medical treatment before he eventually sought asylum in Germany, it said without naming the country he went to for treatment.
Daleel was no longer an active Islamic State member by the time he arrived in Germany in 2014 but was lured back to the group through its online propaganda years later, the obituary said. Government authorities haven't verified the accuracy of the obituary.
Bavarian Interior Minister Joachim Herrmann said Wednesday that the latest evidence indicated the bomber had been significantly influenced by another person regarding how the attack was carried out, but he couldn't say whether that person was affiliated with Islamic State.
The account confirms the powerful draw of Islamic State's online propaganda in encouraging would-be attackers to launch operations in the group's name and the difficulties European authorities face in monitoring their communications and movements.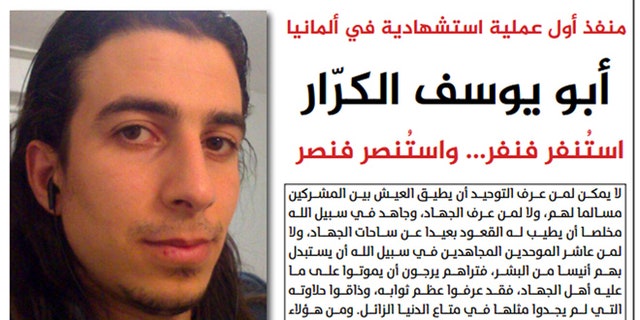 The newsletter didn't detail what method Daleel used to contact the other Islamic State operative or where that operative was located at the time.
German investigators found an "intense chat" on the assailant's phone showing that the man had been in immediate contact with someone right up until the attack Sunday night in the southern German town of Ansbach, Mr. Herrmann said. Investigators are looking into who the person was and where he was when chatting with the bomber.
The attack killed only Daleel and wounded 15 others. Daleel pledged allegiance to Islamic State leader Abu Bakr al-Baghdadi in a video he recorded claiming responsibility for the attack.