ISIS says its 'minister of war' killed in Iraq, despite reports he died in Syria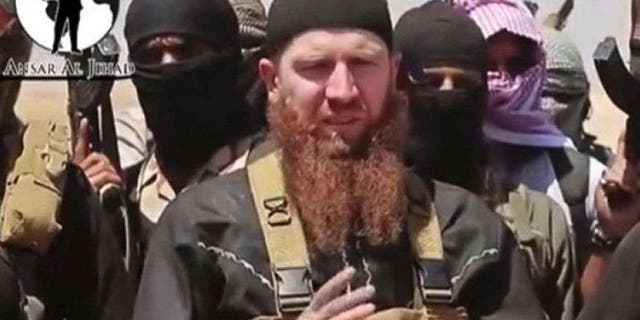 NEWYou can now listen to Fox News articles!
Islamic State confirmed through its media outlet Wednesday that one of its top military commanders was killed fighting near the Iraqi city of Mosul.
The confirmation of Abu Umar al-Shishani's death comes months after U.S. and Iraqi officials, as well as Syrian activists, said in March that he had died of wounds sustained in a U.S. airstrike in Syria.
The terror group's Aamaq news agency reported that al-Shishani was "martyred" in the town of al-Shirqat, near Mosul, while helping to "halt the military campaign" against the ISIS-held city.
Islamic State supporters published eulogies to al-Shishani on social media and messaging networks, according to the Associated Press.
Aamaq had denied that al-Shishani was killed in March, without providing evidence that he was alive.
Al-Shishani, originally known as Tarkhan Tayumurazovich Batirashvili, was the ISIS equivalent of the Secretary of Defense. A senior U.S. defense official told Fox News back in March that he was killed near the Syrian town of Al Shadaddi, which was recaptured by the U.S.-backed Syria Democratic Forces.
An airstrike initially had injured him, but U.S. officials later said he died of his wounds.
A senior Iraqi intelligence official and the head of the Britain-based Syrian Observatory for Human Rights also confirmed Batirashvili's death to the Associated Press.
Batirashvili, was one of hundreds of Chechens who have been among the toughest jihadi fighters in Syria.
An ethnic Chechen from the Caucasus nation of Georgia, specifically from the Pankisi Valley, a center of Georgia's Chechen community and once a stronghold for militants, he was known for his red beard.
He joined ISIS in 2013, where he oversaw a prison facility near Raqqah, Syria where the terror group may have held foreign hostages. In mid-2014, he coordinated closely with ISIS's financial section to establish a base of operation near Minbij, Syria.
He was later appointed northern commander to ISIS by Abu Bakr al-Baghdadi with authority over the terror group's military operations forces in northern Syria, according to a U.S. defense official.
The U.S. Treasury Department designated Batirashvili as a Specially Designated Global Terrorist pursuant to Executive Order 13224 for action for or on behalf of ISIS, and offered a $5 million reward for information to bring him to justice.
Fox News' Jennifer Griffin, Lucas Tomlinson, and the Associated Press contributed to this report.