ISIS militant group takes control of Syria's largest oil field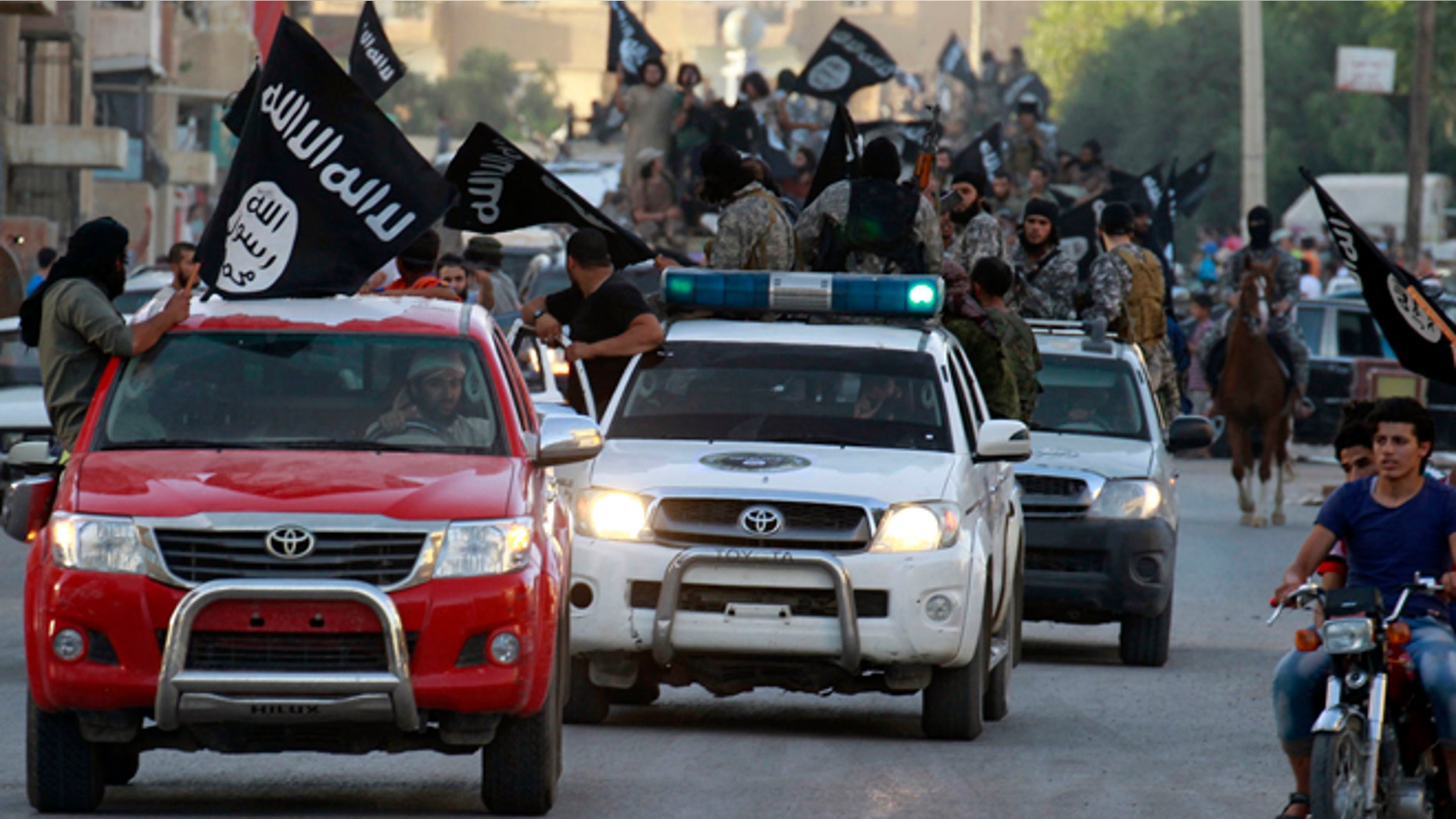 ISIS, the jihadist terrorist group that has seized a huge swath of land stretching from Syria to Iraq, has taken control of Syria's largest oil field from another terrorist group with ties to Al Qaeda.
The terrorist group which fought side-by-side with Syrian rebels and the Al Nusra Front to topple Syria's government until the alliance imploded, now controls Al-Omar, in Syria's eastern Deir Ezzor province, according to the opposition group Syrian Observatory for Human Rights. Control of Syria's most productive oil field could be a potentially valuable resource for funding its terror operations and the Islamic caliphate is claims to have established.
"We took it (the oil field) over without any fighting," a purported commander of the Islamic States of Iraq and Syria/Levant said on a YouTube video released by ISIS supporters. "They fled like rats."
Led by an ambitious Iraqi militant Abu Bakr al-Baghdadi, ISIS this week unilaterally declared the establishment of an Islamic state, or caliphate, in the lands it has seized in Syria and Iraq. It proclaimed al-Baghdadi the head of its new self-styled state and demanded that all Muslims pledge allegiance to him.
Prior to the civil war, which broke out in March, 2011, the oil field produced some 30,000 barrels a day. Last November, Al-Nusra Front and its anti-regime allies seized the field and kept production at an estimated 10,000 barrels a day, according to the Observatory. According to the U.S. Energy Information Administration, Syria's oil production has declined dramatically - to an estimated 25,000 barrels per day from more than 400,000 - because of the conflict and subsequent Western-imposed sanctions.
The majority of significant Syrian rebel groups that have been fighting to overthrow President Bashar Assad have rejected Baghdadi's declaration. Rebel groups, including Al Nusra Front, have fought the extremist group since the beginning of the year with nearly 7,000 fighters killed.
ISIS -- which controls large parts of northern Syria and captured vast swaths of northern and western Iraq last month -- is now in almost full control of a corridor stretching from the Syrian border town of Boukamal to the government-controlled provincial capital of Deir el-Zour to the northwest.
On Monday, militants paraded military hardware – including vehicle-towed artillery, tanks, Humvees and a missile – through the streets of Raqqa, the only Syrian provincial capital that is outside of Assad's rule, according to Reuters.
In the northern Syrian province of Aleppo, ISIS fighters have launched an offensive against Syrian rebel groups. The militants are also battling east of Damascus, Reuters reports. The new developments effectively expand and consolidate areas held by the group -- which has shorted its name to the Islamic State -- in territory straddling the border between the two conflict-ridden countries of Syria and Iraq.
However, Nusra Front appears to be losing the war within a war in Syria as fighters allied with powerful tribes in eastern Syria defect to al-Baghdadi's group.
On Thursday, a video posted online by activists showed a man in the town of Sheheil, a Nusra Front stronghold, reading a statement, saying: "We have decided to declare our allegiance to the Islamic State and the Caliph of the Muslims, Abu Bakr al-Baghdadi."
Another video showed what appeared to be fighters in the nearby Ishara village announcing that they were ceasing their fight against the Islamic States of Iraq and Syria/Levant.
"The clans of the city of Ishara, and the villages around it ... and all of the factions in these areas ... announce before God that they will cease fighting with the Islamic State," a man says, reading from a statement as he stands in a courtyard with several other tribal elders. The videos appeared to be genuine and matched AP reporting from the area.
The Deir el-Zour Coordination Committees, a collective of activists in the area, confirmed that militants had entered the town of Mayadeen and Ishara after other rebel fighters withdrew.
Rami Abdurrahman, director of the Britain-based Syrian Observatory for Human Rights, said some Nusra fighters were still clashing with their rivals at the outskirts of Sheheil Thursday, but added that the Al Qaeda-linked group appears close to collapse.
Led by a Syrian known as Abu Muhammed al-Golani, the Nusra Front is Al Qaeda's official branch in Syria and was declared a terrorist group by the United States. Its fighters have been one of the most effective forces against Assad's troops, and have carried out suicide bombings targeting government forces in Syria's major cities, including the capital Damascus.
Meanwhile, Sunni militants Thursday released 32 Turkish truck drivers who were captured during a lightning offensive across northern and western Iraq last month, Turkey's foreign minister said.
Speaking to reporters in Ankara, Foreign Minister Ahmet Davutoglu said the truckers were heading toward Irbil, the capital of the semi-autonomous Kurdish region of northern Iraq, and would be flown later to Ankara.
The drivers were well, although one may need special treatment, he added, without elaborating or giving any details about their release.
Militants from ISIS seized them June 9 in Mosul, Iraq's second-largest city. Three days later, they took another 49 people from the Turkish consulate in the city.
Davutoglu said efforts were underway to secure the release of the Turks still in captivity.
The Associated Press contributed to this report.