ISIS-linked terrorist vows revenge against Lebanon after wife kidnapped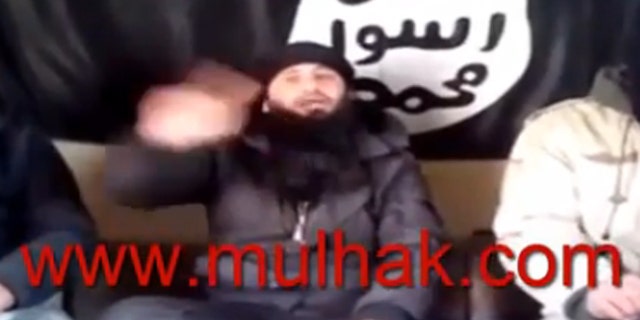 In a video message posted by a Lebanese news website, a Sunni militant commander linked to Islamic State threatened to kidnap and imprison women and children of the Lebanese army "in the near future" if authorities do not release his wife.
Abu Ali al-Shishani said in a statement released late Thursday that talks underway for the release of 20 Lebanese soldiers held captive by Islamic State and Al Qaeda-linked militants in Syria will stop until his family is freed.
"My wife, Ola Mithqal al-Oqaily, Um Ali (the mother of Ali), was taken two days ago from Tripoli, the city that is called the city of Islam and Muslims," Shishani said
"She was merely a refugee in a school just like any other woman. Why did they take her, because of her husband? Damn you!"
The arrest of al-Shishani's family members was announced by authorities in Beirut earlier this week.
Lebanese authorities have also said they hold the wife and child of the Islamic State group's leader.
Shishani sent a direct message to Sheikh Salem Rafei, a prominent sheikh based in the northen Lenbanon city that shares its name with the much larger Libyan capital, holding him accountable for the detention of his wife.
And to the Lebanese army he told them not "dream" about having their previously captured soldiers released without negotiations even they imprisoned all Muslims.
In his message, Shishani also denied previous reports that the woman taken days ago was ISIS leader Abu Bakr al-Baghdadi's wife saying Oqaily is his wife and the mother of his two children. Al Shishani, who has pledged allegiance to the Islamic State, was shown sitting in front of ISIS flag with two masked militants on each side.