ISIS leader Baghdadi hiding near Iraq-Syria border, alive but injured, Iraqi military says
MOSUL, Iraq – The leader of the Islamic State group (ISIS), now in retreat across the Mideast, remains alive, albeit wounded, and hiding near the Iraq-Syria border, according to intelligence gathered by Iraq's Ministry of Defense (MOD).
"We have a lot of information. He is alive, moving between the Iraq and Syria border in desert areas," Brig. Gen. Yahya Rasool, the spokesperson for the MOD and for Joint Operations Command, in partnership with the U.S.-led coalition, told Fox News in Baghdad on Tuesday. "There are still ISIS sleeper cells scattered in these desert areas."
More specifically, MOD intelligence indicates the self-styled caliph lurks between the border city of Al-Qaim in the Anbar governorate in Iraq and Abu Kamal in Syria's Deir ez-Zor governorate, on the bank of the Euphrates River.
Rasool could not provide an exact number of militant operatives who are left, but estimated that "tens" -- Baghdadi among them -- were still "living like rats" in remote underground shelters, with some using disguises like farmers or women's coverings to evade detection.
"ISIS as an organization still exists," Rasool cautioned. "We still expect terrorists and cells to attack."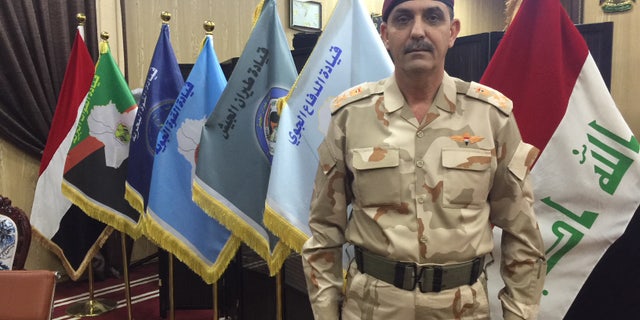 The newly disclosed intelligence marks the latest in a series of statements and speculations from various groups about where the terrorist leader may be and whether he is alive or dead.
A spokesperson for Operation Inherent Resolve, the official coalition name of the mission to eliminate ISIS, told Fox News there was no verifiable information on Baghdadi's health or whereabouts, but U.S. forces are aware that members are still alive and "that includes some of its leaders who are in hiding."
The spokesperson also said Baghdadi sustained "severe injuries" on Feb. 11 from an F-16 bomber strike in the al-Qaim area, which killed several of his guards. His condition has, according to Rasool, meant that his movement between the two countries is increasingly limited.
"The target was accurate. We hit the right place," Rasool insisted. "But he is a clever man. He has been doing this a long time. He knows how to move to protect himself."
Simultaneous offensives to squash ISIS from both sides were launched earlier this month. Al-Qaim was successfully secured by Iraqi forces with support of the U.S.-led coalition on Nov. 3, while control of Abu Kamal went back and forth between Syrian soldiers and ISIS, with Syrian officials declaring on Saturday that it had again seized the city. But pockets of ISIS fighters remain.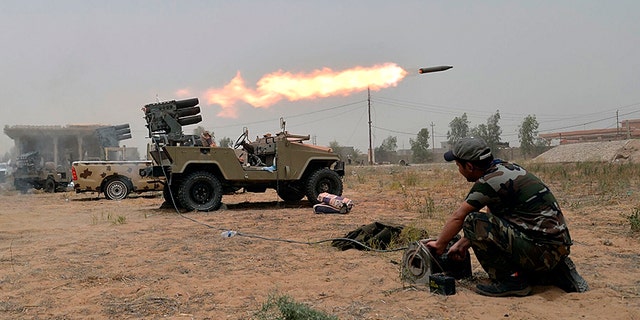 Rasool's claims also throw into question the Russian claim that its forces had killed Baghdadi in an airstrike at a gathering of ISIS leaders in Raqqa, Syria, in late May.
Baghdadi, who is around 46 years old and was born Ibrahim Awwad Ibrahim Ali al-Badri al- Samarrai, made his last public appearance at the now destroyed Grand al-Nuri mosque in Mosul in June 2014, shortly after ISIS invaded Iraq's second-largest city, Mosul. He has since released a spattering of undated audio recordings from undisclosed locations. In early September, ISIS released a 46-minute Baghdadi tape.
Baghdadi, who has a $25 million bounty on his head, referenced several then-current events. Those events included the "nearly 10-month-long fight for Mosul," which began some 11 months prior to the recording's release, as well as North Korea's nuclear threats and Russia "taking control" of Syrian peace talks, indicating he had survived the ongoing ISIS offensives at least until then.
While it is not clear how much control Baghdadi still has over the group's operations, his death will ultimately serve as a blow to the remaining loyalists.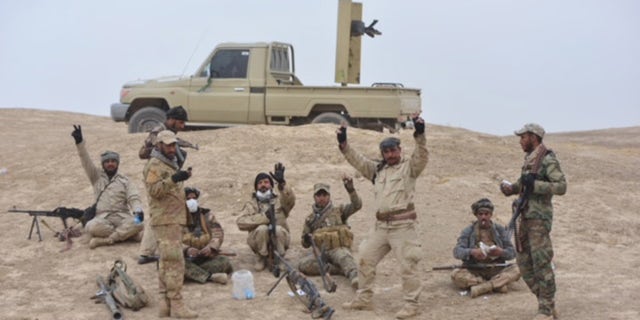 "We will get him," Rasool said.
If Baghdadi is killed by Iraqi forces, they will present the DNA evidence just as they did after the 2006 death of his predecessor, the leader of what was then called Al Qaeda in Iraq, Abu Musab al-Zarqawi.
"But personally, I would prefer if this criminal was arrested. Baghdadi should be put in public and face the courts," the general said. "And we could get a lot of information from him."