ISIS fighters' handwritten letters found at abandoned Mosul training compound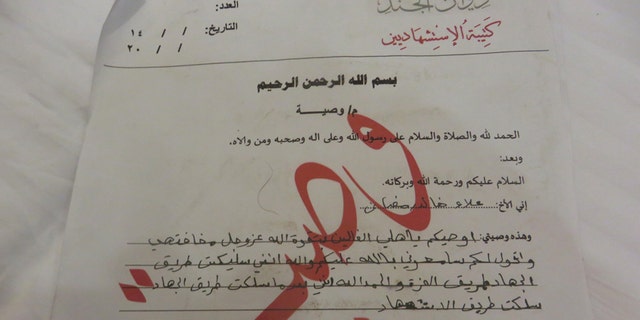 Alaa Abd al-Akeedi asked his family for forgiveness and not to mourn him before ending his life in a suicide bomb attack against Iraqi security forces last year.
"Don't be sad and don't wear the black clothes. I asked to get married and you did not marry me off. So, by God, I will marry the 72 virgins in paradise," Al-Akeedi wrote in a handwritten letter found by Reuters at an Islamic State training compound in eastern Mosul.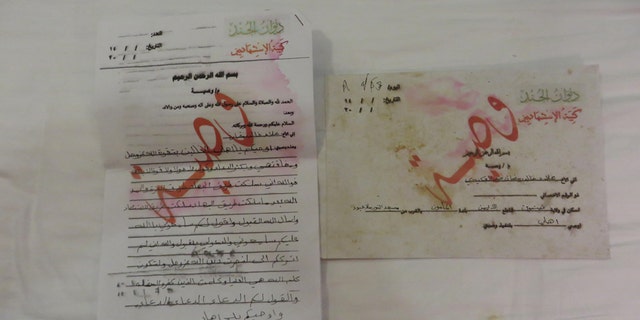 COULD ISIS BE USING PUPPIES AS SUICIDE BOMBERS?
Al-Akeedi was one of the dozens of young recruits to pass through the ISIS training compound in the past 2 ½ years, Reuters reported. His letter was written on an ISIS form marked "Soldiers' Department, Martyrs' Brigade" and addressed to his parents' home in western Mosul.
A relative of Al-Akeedi told Reuters that the boy's father was deeply distressed by his decision to join ISIS ranks and that he rarely visited after joining the jihadists. On his last trip home, Al-Akeedi reportedly told his father that he was going to carry out a suicide attack in Baiji, an oil refinery town south of Mosul.
"He told his father, 'I am going to seek martyrdom,'" the relative said, declining to give his name over fear of repercussions from ISIS or Iraqi forces.
ISIS REPORTEDLY USING WEAPONIZED DRONES IN IRAQ AND SYRIA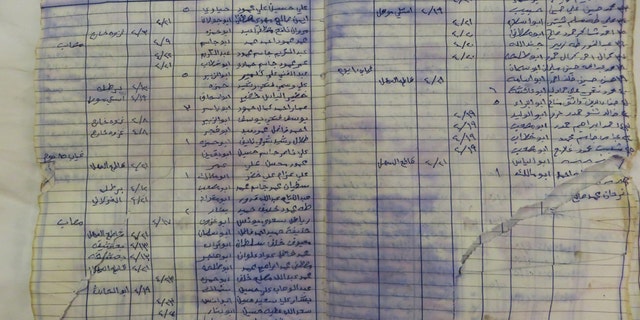 A few months later, militants told the family that he had succeeded. He was 15 or 16 years old.
The letter was part of a series of documents ISIS militants left behind when they abandoned the facility after an Iraqi Army offensive to reclaim parts of the city since October. They offer an insight into the mindset of recruits who are prepared to die for their ultra-hardline cause.
Reuters also found a handwritten registry containing personal details of about 50 recruits, with about a dozen photographs attached. The majority of the recruits were from Iraq; however, there were a few from the United States, Iran, Morocco and India.
VIDEO SHOWS BEHEADING OF SAILOR BY ISIS-LINKED TERRORISTS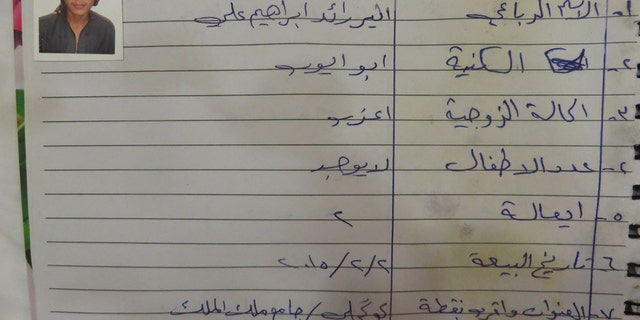 ISIS militants have attracted thousands of young recruits all over Iraq and Syria and have carried out hundreds of suicide attacks in the Middle East and in the West.
Many of the young recruits are school boys who are still in their teens, like Atheer Ali, whose registry included a photo of a young boy with bushy eyebrows and large brown eyes.
His family told Reuters that Ali had once been an outstanding student. They were horrified to learn in 2015 that he didn't return home from school because he and several other school friends joined the jihadists.
He died a few months later.
"Even now I'm still astounded. I don't know how they convinced him to join," said his father Abu Amir. "I'm just glad we could bury him and put this whole thing to rest."
According to Reuters, the training compound consisted of three villas confiscated from Mosul residents. The lower floors were littered with ISIS posters and pamphlets ranging from weaponry to the Koran.
The upstairs rooms were packed with bunk beds for almost 100 people.