ISIS' decision to oust notorious Boko Haram leader is tearing group apart, report says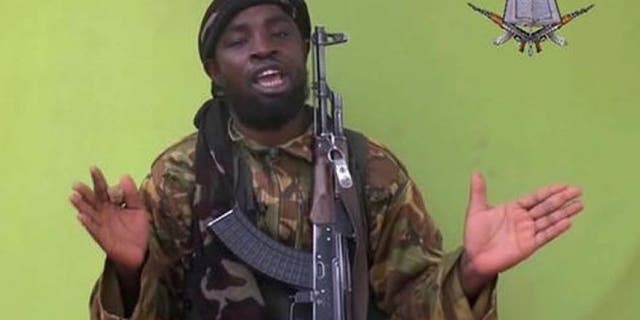 NEWYou can now listen to Fox News articles!
The Islamic State's decision to oust the leader of Boko Haram -- who had a penchant for using children as suicide bombers – is fracturing the Nigerian terror group as bloodthirsty militants are divided amid a new push to attack Christian communities.
The self-proclaimed caliphate announced in August that Musab al-Barnawi will be the Nigerian group's new "governor" after Abubakar Shekau, its notorious former leader, apparently became too much for ISIS leadership in the Middle East, The Wall Street Journal reports.
Barnawi, rumored to be a son of the group's founder, reportedly told ISIS' newspaper that jihadists should shift their focus to Nigeria's Christians, in a bid to win over public support after Shekau spent years attacking Muslim villages that didn't join Boko Haram's ranks.
The group, an ISIS affiliate, should be "booby-trapping and blowing up every church that we are able to reach, and killing all those we find from the citizens of the cross," Barnawi told the newspaper, according to The Wall Street Journal.
Such a move could exploit existing tensions in Nigerian communities with split Muslim and Christian populations, the newspaper added.
Under Shekau – who took control of the group in 2009 – Muslim civilians became the majority of the casualties in the violence, with militants frequently enlisting children to carry out suicide attacks.
"You can't really be more barbaric and more savage than Shekau," Issoufou Yahaya, a political analyst and head of the history department at the Niamey University in Niger, told The Wall Street Journal. "He's the pinnacle of barbarism."
But Shekau has not recognized Barnawi's appointment, accusing him of apostasy and saying that ISIS' leader, Abu Bakr al-Baghdadi, has been duped.
The two factions have been clashing as a result, accusing each other of abandoning their faith, The Wall Street Journal reported.
A new Boko Haram video released this week that declared allegiance to Shekau vowed to kill Nigeria's president and army chief, according to The Associated Press.
Boko Haram controls large sections of Nigeria, in addition to territory in neighboring Niger, Cameroon and Chad.