ISIS chief cleric, al-Baghdadi confidant, killed by US-led coalition forces
U.S.-led coalition forces said they have killed Turki al-Bin'ali, ISIS' chief cleric, in Syria airstrike last month.
Al-Bin'ali, who called himself "Grand Mufti," was killed in an airstrike on May 31 in Mayadin, Syria, according to a news release from the Combined Joint Task Force – Operation Inherent Resolve.
The cleric's main role was recruiting extremists and causing terrorist attacks across the globe. Al-Bin'ali, who has been the terror group's chief cleric since 2014, supplied propaganda encouraging murder and other atrocious acts. He tried to legitimize the formation of the so-called "caliphate" and was a close confidant of Abu Bakr al-Baghdadi, the leader of the jihadi group.
The cleric's recruiting efforts for the terrorist organization included many filmed lectures trying to condone and provoke the slaying of innocent people.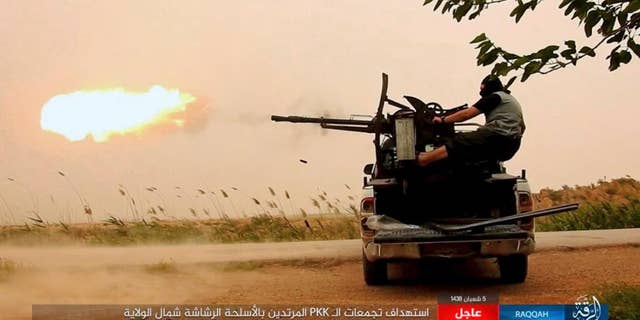 The Bahraini cleric wrote religious justifications for the enslavement of thousands of women from Iraq's Yazidi minority and helped establish the ISIS branch in Libya. He rose to be one of the extremist group's leading ideologues.
Several senior Islamic State figures have been killed in recent years as the group has been driven from large parts of Syria and Iraq. U.S.-backed forces recently pushed into Raqqa, the northern Syrian city that served as the group's de facto capital.

Fox News' Jennifer Griffin and The Associated Press contributed to this report.