Is UNICEF helping all the child victims of peacekeeper sex abuse?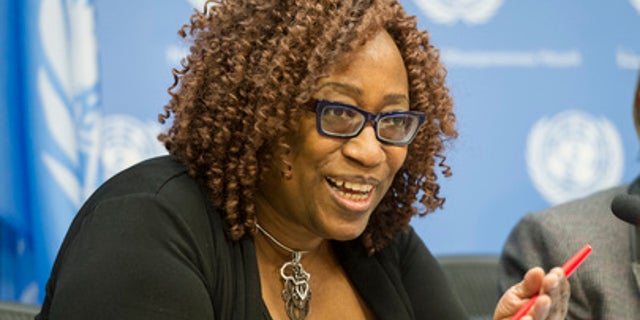 In December 2015, an international panel blasted the United Nations for indifference and cover-up in the investigation of sex crimes against children by non-U.N. peacekeepers in the Central African Republic (CAR) between 2013 and 2014. Ever since, the U.N. has claimed it is doing everything it can to change its ways, especially in bringing help to the victims of those crimes.
But is it?
An investigation by the Swedish public television network SVT has reopened the issue with charges that the U.N.'s child relief agency UNICEF failed to follow up with care and support for some of the handful of children mentioned in the original investigative report of the so-called Sangaris scandal.
The program includes a local UNICEF spokesperson's claims on-camera that "all" of the children "absolutely" have received such "rehabilitation and reintegration" care, and are tracked on a "weekly" basis -- though the journalists were not allowed to speak with any of them.
But the program, which aired in Sweden last month, offers interviews with at least two boys who were in their early teens when they suffered sexual abuse at the hands of the international peacekeeping forces known locally as Sangaris, and now wash cars and tote water on the street to survive.
The two youngsters offered vivid recollections of the sex acts committed on them and others in exchange for food or money; neither one said they had been contacted by the U.N., though the filmmakers apparently did not have much difficulty finding them.
A young woman, who the documentarists say was 14 when she was impregnated by a Sangaris soldier and also contracted HIV from the encounter, told the Swedish TV crew that while UNICEF officials knew of her predicament, she had received only the equivalent of about $17 in cash and a bag of rice as aid at the time she talked with the journalists.
The ugly litany of abuse, coupled with assurances that the problem was being well taken care of, was reminiscent of some of the charges levied against U.N. agencies in the original, 143-page international panel report on the CAR scandal, which was published in December 2015.
Among other things, the report specifically singled out UNICEF for an "appalling" year-long lag in providing medical help to six children as young as 8 who claimed they suffered rape and sexual abuse from the French and African peacekeepers operating under a U.N. mandate in CAR in late 2013 and early 2014.
It also scored UNICEF for claiming to provide "psychological support" to the abused children that turned out to be a "single, two-hour session" with a social worker, assisted by a lawyer."
Finally, the panel report scored the U.N. for its lack of follow-up in searching for additional sexual abuse cases, despite the fact that "the violations were likely not isolated." It called the agency's performance "a serious breach of UNICEF's duty to protect children."
The current work by Swedish investigative journalist Karrin Mattisson and her colleagues apparently also gave a strong sense of déjà vu to the chairperson of that investigative panel: former Canadian Supreme Court Justice Marie Deschamps, who appeared in New York late last week at a press conference to publicize the Swedish program.
The testimony of children in the film, she declared, "is consistent with some of the allegations in the report," and indicates "that the culture of the U.N. has not changed in the two years [actually, 16 months] since the report's release."
By then, the CAR scandal had already involved a lengthy history of high-level cover-up and retaliation against a U.N. staffer, Anders Kompass, who broke U.N. protocols to pass on word of the accusations to French government officials, whose troops were the backbone of the Sangaris effort.
The panel report exonerated Kompass and strongly criticized U.N. officials, including Kompass' boss, the current U.N. High Commissioner for Human Rights, Zeid Ra'ad Al Hussein, for spending more effort on an investigation of Kompass than on stopping the sexual abuse.
Kompass, a Swedish diplomat, subsequently resigned from the U.N. and returned to Swedish government service.
By then, however, a floodgate of accusations had opened, with literally hundreds of victims of sexual abuse by peacekeepers, both from the U.N. and other agencies, being identified -- not only in CAR but around the world.
The tally of victims posted on a special U.N. website was 311 in 2016, vs. 99 in 2015. The latest total provided a grim backdrop last month for yet another declaration of war against sexual abuse by the new U.N. Secretary General, Antonio Guterres.
For its part, UNICEF is pushing back against the latest claims that it has neglected sexual abuse victims with carefully worded denials.
A UNICEF spokesperson in New York, who told Fox News that agency officials had seen the documentary, insisted that "over 200 children are enrolled in our program to assist victims of sexual exploitation and abuse and they have all received assistance."
(That number was already a monumental expansion of the handful of cases involved in the original CAR scandal, and Guterres' latest war declaration against sexual abuse was a sign that more victims are expected. In fact, on the U.N.'s own website, four alleged sexual abuse cases against children by U.N. peacekeepers have been registered so far in 2017. Two of them took place in CAR.
The roster of aid programs, the UNICEF spokesperson in New York said, include "on a case-by-case basis, school, vocational training, income-generating activities, psychosocial support and medical services," mostly provided through local partners.
One of the aid recipients, the spokesperson declared, was the young woman interviewee in the Swedish TV program, who, they said, "is now enrolled in a vocational school and is receiving medical care, along with her baby."
The "now" in that sentence, however, seemed to indicate that she previously wasn't; the documentary program took two months to prepare after the interview with the young mother was conducted in January.
At the same time, UNICEF's response indicated it was likely the agency still did not know how many sexual abuse victims were left out of their calculations, or where those might be.
On-camera, UNICEF's local spokesperson said it was likely there was "a gap here and a gap there" in the agency's coverage. The UNICEF spokesperson in New York asserted that "we stand ready to extend the necessary support to other victims who are reported to us, and we urge anyone with information on children who may have been abused to share that information with us so we can assist them."
Those "gaps" are one of the reasons that AIDS-Free World, a non-government organization whose Code Blue campaign against U.N. sexual abuse brought the Swedish TV team to New York , insists that "the U.N. has to get out of the business of investigating sexual abuse," according to Paula Donovan, the NGO's co-executive director.
The organization is faced with a fundamental conflict of interest, she argues, when it must probe such sensitive crimes that are allegedly committed by another branch of the U.N., or others acting in its name. That chore, her organization asserts, should be taken on by an independent panel of experts.
"The U.N. cannot function unless it takes care of this crisis," she declared.
Said Swedish TV journalist Mattisson: "I very much hope the U.N. will put more effort into the victims' perspective."
That, supposedly, is the aim of the refocused program that Secretary General Guterres announced just a month ago -- albeit without adopting AIDS-Free World's suggestions. And that approach, according to his spokesperson, Stephane Dujarric, is gathering steam, at least in bureaucratic terms.
Among other things Dujarric told Fox News, Guterres has "requested that all heads of [U.N.] agencies with operations and programs in the field" provide "action plans to address sexual exploitation and abuse" -- known in U.N. parlance as SEA -- by the end of this month.
A new U.N. assistant secretary general focused on victims' rights is expected to be hired by July 1, "subject to budgetary approval" by U.N. member states, and "Field Victims' Rights Advocates" currently exist in two major U.N. peacekeeping missions.
A new, "voluntary compact" between Guterres and those member states, "outlining both parties' commitments in the fight against SEA," is also in the works, Dujarric said, and a special victims' trust fund intended to create projects to help victims -- but not compensation for damages -- is already operating.
The amount of money involved, however, is not very impressive. So far, there is about $225,000 budgeted for 2017.
A high level summit of heads of state on the overall sexual abuse topic is supposed to take place "on the margins" of the main U.N. General Assembly session in September, to give further momentum to the campaign.
And a "system-wide incident reporting form" for sexual abuse, Dujarric added, "should be finalized and field tested soon."
The same goes for a new "victim's assistance protocol" that is being tried on a pilot project basis in Mali and the Democratic Republic of the Congo.
It is intended, Dujarric said, "as a means to guide all United Nations entities in the field in providing sensitive, respectful assistance to victims in a coordinated manner, with special attention to child victims."
Providing, of course, that they know who all the victims are.
George Russell is Editor-at-Large of Fox News. He is reachable on Twitter at @GeorgeRussell and on Facebook at Facebook.com/George.Russell