IS stages surprise attack on Syrian government-held village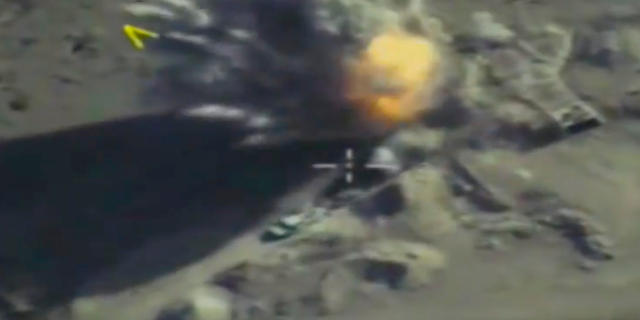 BEIRUT – Islamic State militants on Thursday attacked a village in eastern Syria recently captured by government forces, threatening to cut the main highway linking the capital, Damascus, with the city of Deir el-Zour, Syrian opposition activists said.
The attack on al-Shola village was one of the strongest staged by IS in the region recently, three weeks after Syrian troops broke a nearly three-year long siege of parts of Deir el-Zour, the capital of the oil-rich province that carries the same name.
It was also a surprise as IS militants have been squeezed in the province by Russian-backed Syrian troops and U.S.-backed members of the Kurdish-led Syrian Democratic Forces.
The Britain-based Syrian Observatory for Human Rights said al-Shola was under attack on Thursday. Omar Abou Leila, of the monitoring group DeirEzzor 24, and the IS-linked Aamaq news agency said the extremists captured the village.
Abou Laila said IS fighters appear to have come from the town of Mayadeen, one of the largest remaining strongholds of the militants in Syria.
Earlier Thursday, the Observatory said government forces have laid siege to IS-held neighborhoods of Deir el-Zour but Abou Leila could not confirm that.
The race for control of the territory and resources in this province bordering Iraq has caused friction between government forces and the Kurdish-led SDF. The U.S-backed fighters say government forces and Russian warplanes have attacked them. Russia warned it would retaliate after it said Syrian government troops came under fire from the U.S-backed forces.
Russia and the United States say they are working out a mechanism to avoid friction in the common fight against Islamic State militants.
Meanwhile, Hamoudeh Sabbagh, a little-known legislator, was elected speaker of parliament, the state news agency SANA reported in Damascus. The new People's Assembly chief won 193 votes, while his closest opponent garnered only 10.
Sabbagh replaces Hadiyah Abbas, who was removed in June with a majority of votes because of "undemocratic behaviors," according to a statement.
Pro-government websites said Sabbagh is a member of President Bashar Assad's ruling Baath party and was elected to parliament in 2012.
Assad's family has ruled Syria since 1970, and so far the Syrian president has remained in power despite the civil war, now in its seventh year, sparked by an uprising against him.