Iraq's al-Sadr says next government will be 'inclusive'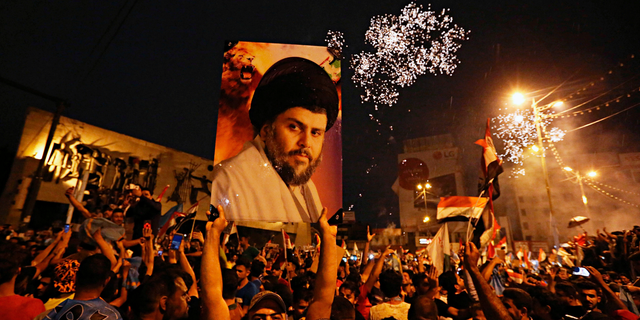 NEWYou can now listen to Fox News articles!
Shiite cleric Muqtada al-Sadr, whose coalition won the largest number of seats in Iraq's parliamentary elections, has sought to reassure Iraqis about their next government, saying it will be "inclusive" and mindful of their needs.
No single bloc won a majority in the May 12 vote, raising the prospect of weeks or even months of negotiations to agree on a government. Major political players began talks soon after the election's partial results were announced last week. The latest round was held late Saturday night between al-Sadr and Prime Minister Haider al-Abadi, whose bloc made a surprisingly poor showing in the election.
Speaking after the talks, al-Sadr said the first postelection meeting between the two "sends a clear and comforting message to the Iraqi people: Your government will take care of you and will be inclusive, we will not exclude anyone. We will work toward reform and prosperity."
He did not elaborate, or provide details about what he and al-Abadi discussed.
Al-Sadr, whose followers fought U.S. forces in Iraq after the 2003 invasion, won 54 of the chamber's 329 seats. Al-Abadi's "Victory" bloc took 42 and a coalition of government and Iranian-backed paramilitary forces came in second.