Iraqi President Talabani to be treated in Germany after stroke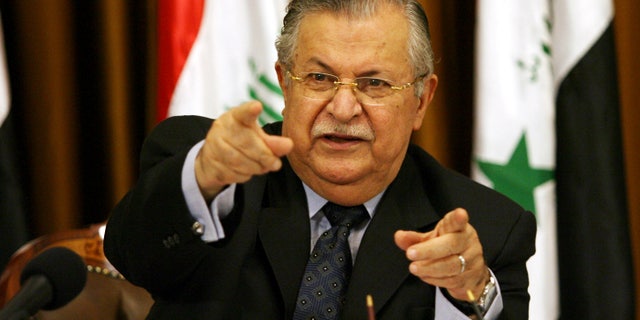 BAGHDAD – Iraqi President Jalal Talabani will be flown to Germany for further treatment after suffering a stroke earlier this week, two Kurdish officials close to him said Wednesday.
Medical experts from Germany and other countries began arriving earlier in the day to assess the 79-year-old president's condition.
Iraqi doctors at the Baghdad intensive care unit where he is being treated say he is in stable condition and getting better, but they have released few details about his illness.
Talabani, a member of Iraq's Kurdish minority, was taken to the hospital late Monday and doctors worked to stabilize him into the following day. His illness raises new concerns about Iraq's stability, which is being tested anew by a recent spike in tensions between the central government and the Kurds.
Firyad Rawndouzi, a senior member of Talabani's Patriotic Union of Kurdistan party, said the German team recommended he be moved, possibly as early as Thursday. The head of the president's media office, Barazan Sheikh Othman, also said doctors were preparing to transfer him.
"Most probably the president will be taken tomorrow, or at maximum the day after tomorrow, to Germany to complete his treatment," Othman said. "The president's medical situation has improved and he has passed the dangerous stage."
Questions remain about the graveness of Talabani's illness.
One government official and a medic with knowledge of the situation earlier said he was in a coma, while another official said he is in a partially comatose state, suggesting he may be responding to some stimuli. All insisted on anonymity because they are not authorized to discuss the president's condition with reporters.
Talabani's doctors have not formally said that the 79-year-old statesman suffered a stroke, though several government officials have publicly confirmed that is the case.
Talabani is overweight and has undergone several medical procedures in recent years, including heart surgery in 2008 and knee replacement surgery this year.
The U.S. Embassy in Baghdad expressed hopes for a speedy recovery. Word of Talabani's illness trickled out on Tuesday, which also marked the anniversary of the withdrawal of the last U.S. troops from Iraq.
Talabani's official powers are limited, but he is seen as a rare unifying figure able to rise above the ethnic and sectarian rifts that still divide the country.
Iraq's parliament has the authority to choose a new president should Talabani's office become vacant. The Kurds would likely insist on retaining the presidency to maintain the government's power-sharing balance.
Before he fell ill, Talabani was actively involved in trying to mediate in a crisis between Baghdad and the Kurds, who have their own fighters and considerable autonomy in their enclave in northern Iraq.
The two sides last month moved additional troops into disputed areas along the Kurds' self-rule region, prompting fears that fighting could break out.
Last week Talabani brokered a deal that calls on both sides to eventually withdraw troops from the contested areas, though there was no timetable for how soon the drawdown might take place.