Iraqi forces gird for grueling assault on ISIS stronghold of Mosul
BAGHDAD – The long-awaited move on Mosul is expected to begin early next week, as Kurdish, national and allied forces prepare to oust ISIS from its Iraqi stronghold, sources told FoxNews.com.
Forces have been massing along Mosul's outskirts for months, with periodic skirmishes in towns and villages that ring Iraq's second-largest city. Despite the black-clad jihadist army's tight grip within city limits, Iraqi and Kurdish military sources know ISIS has been digging in, fortifying positions, planting booby traps and preparing for a bloody siege.
"The coalition has trained us very well in joint operations, medical training, our snipers, advanced bomb units and street guerrilla tactics," Col. Thamar Mohamed Ismael, commander of the Iraqi Army Emergency Response Division (ERD), told FoxNews.com this week from his unit's Baghdad base that once housed hundreds of U.S. troops during Operation Iraqi Freedom.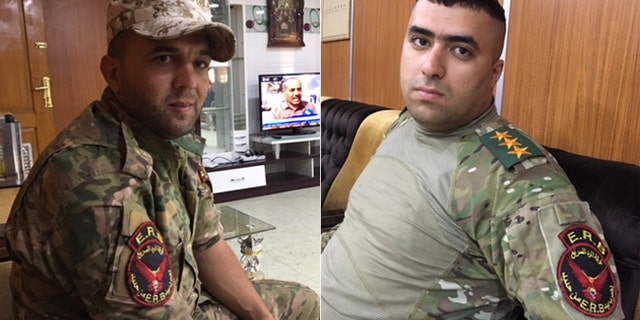 He and others who spoke to FoxNews.com said they expect the assault to begin next week.
Iraqi and coalition forces have in recent days bombarded Mosul with radio broadcasts and leaflets instructing civilians of the coming offensive and notifying them of their exit routes, ginning up speculation that action is imminent.
Aerial attacks are expected to soften up known ISIS targets first, and then Iraqi special operations battalions will spearhead the ground assault, Ismael said. Iraqi troops will then move in, with the grim possibility of fighting block-to-block and door-to-door in a city that was once home to 2.5 million and has been controlled by ISIS since June, 2014. The Kurdish military – known as Peshmerga - will keep the frontlines to the north secure, with Sunni militias guarding the outside of the city. It is unclear what role Shia militias will play.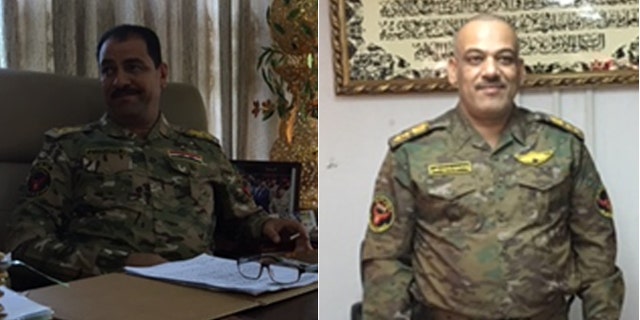 Iraqi military officials have intel from inside Mosul, much of which has been gleaned from spies within ISIS, said Haitham al-Malaki, head of military intelligence for the ERD. Working closely with the U.S.-led coalition, Malaki has obtained troves of key documents and sources that have paved the path for the Mosul offensive to kick into high gear.
"We've identified most of their communications and financial supplies," he told FoxNews.com.
A major part of the plan includes safeguarding the thousands of Yazidi women believed to be held hostage as sex slaves in the city.
"The minute we are on the verge of the city, we will notify those assets to go in and collect as many girls as possible before going in," Malaki told FoxNews.com. "We will also open a rescue path to ensure safe passage for the ones we can't get beforehand."
Perhaps the biggest question looming ahead of the operation is the whereabouts of shadowy ISIS leader Abu Bakr al-Baghdadi. Reports have claimed he was injured – and even killed – in the past, but intelligence sources believe he is likely alive and well and hiding somewhere around Mosul.
Several military officials said the offensive to take control of Mosul could happen as fast as four days to a week. However, Malaki anticipates that it will likely take two months to take back full control, clearing the city of threats and rooting out holdout fighters.
"It will take longer than the others due to the vast majority of people there and the size of the land," he said.
Conditions inside Mosul are believed to have deteriorated significantly in recent months, with inside sources telling FoxNews.com families have been starving due to high costs and limited supplies. Medicine has become scarce, and cash-strapped ISIS is believed to have stopped supplying civilians with the services they once offered in exchange for support.
ERD Captain Omar Nazar, 28, said civilians have turned on ISIS and will be a key to the operation's success.
"We expect many civilians to stay there," Nazar said. "ISIS isn't the same ISIS as before, we have conquered them emotionally. Their morale is gone."
United Nations officials and non-governmental organization leaders have converged in the Northern Iraq town of Erbil this week in preparation for refugees the offensive could produce. However, the deteriorating security situation and high level of suicide bombings in the area surrounding Mosul have made it difficult to set up aid bases and camps, sources told FoxNews.com.
The fight for Mosul is both symbolic and strategic. The Iraqi army was humiliated when the city was overrun more than two years ago. Soldiers fled their posts, leaving behind weapons, munitions and even uniforms in a display that demonstrated the military's shocking inability to protect the nation from the growing threat of ISIS. Over the next two years, the terrorist army overran much of northwestern Iraq, claiming a caliphate the size of the United Kingdom.
Iraqi soldiers are now eager to reclaim the city – and their army's reputation.
"This will be honor, it is my desire to protect my country," said First Soldier Omar Salah al Wad, a 29-year-old father of four from Ramadi. Wounded seven times in battles with ISIS, he added, "I want my country to be as good as it can for my kids."