Iraq attacks kill seven security personnel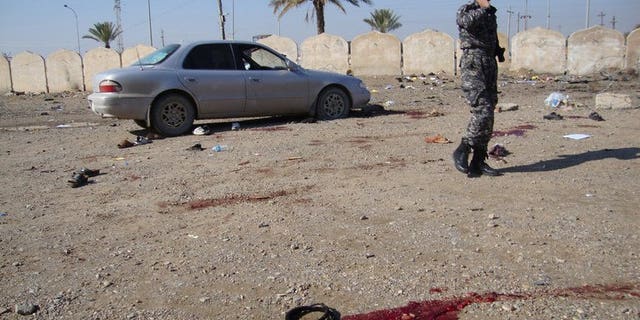 BAGHDAD (AFP) – Gunmen killed four policemen and three soldiers in Iraq on Saturday, the latest attacks in a surge in violence that authorities have failed to curb despite wide-ranging operations against militants.
Security forces have in recent weeks carried out some of their biggest operations since the 2011 withdrawal of US forces, but analysts and diplomats have said authorities have failed to address the root causes of the violence.
Prime Minister Nuri al-Maliki has nevertheless vowed to press on with the campaign in a bid to combat Iraq's worst violence since 2008, and on Saturday the interior ministry announced the killing of an alleged senior Al-Qaeda-linked militant.
In Saturday's deadliest attack, gunmen killed four police, who were buying ice near Tikrit, north of Baghdad.
Security forces often purchase large blocks of ice to distribute to nearby checkpoints in order to cope with Iraq's sweltering summer heat.
Also north of the capital, gunmen killed three soldiers in an attack on a patrol in the restive Muqdadiyah area of Diyala province.
In the far south, a magnetic "sticky bomb" attached to a truck went off in the parking lot of the port of Umm Qasr, a local official said.
A port spokesman said the explosion did not cause any casualties.
No group immediately claimed responsibility for the attacks, but Sunni militants linked to Al-Qaeda and opposed to the Shiite-led government frequently carry out attacks against security forces.
Attacks have killed more than 3,480 people since the beginning of 2013, according to figures compiled by AFP.
Analysts and diplomats attribute the increased violence to anger in the Sunni Arab community over its alleged ill treatment at the hands of the Shiite-led authorities.
Security forces have been carrying out wide-ranging operations in multiple provinces including Baghdad, after brazen July assaults on two prisons, claimed by an Al-Qaeda front group.
Maliki has said more than 800 alleged militants have been arrested and dozens killed in the operations.
Interior ministry spokesman Brigadier General Saad Maan said on Saturday that security forces had killed a top Al-Qaeda militant in Tikrit and detained two of his aides.
He did not identify the man killed.