Iran's vice president drops out of presidential race to support Rouhani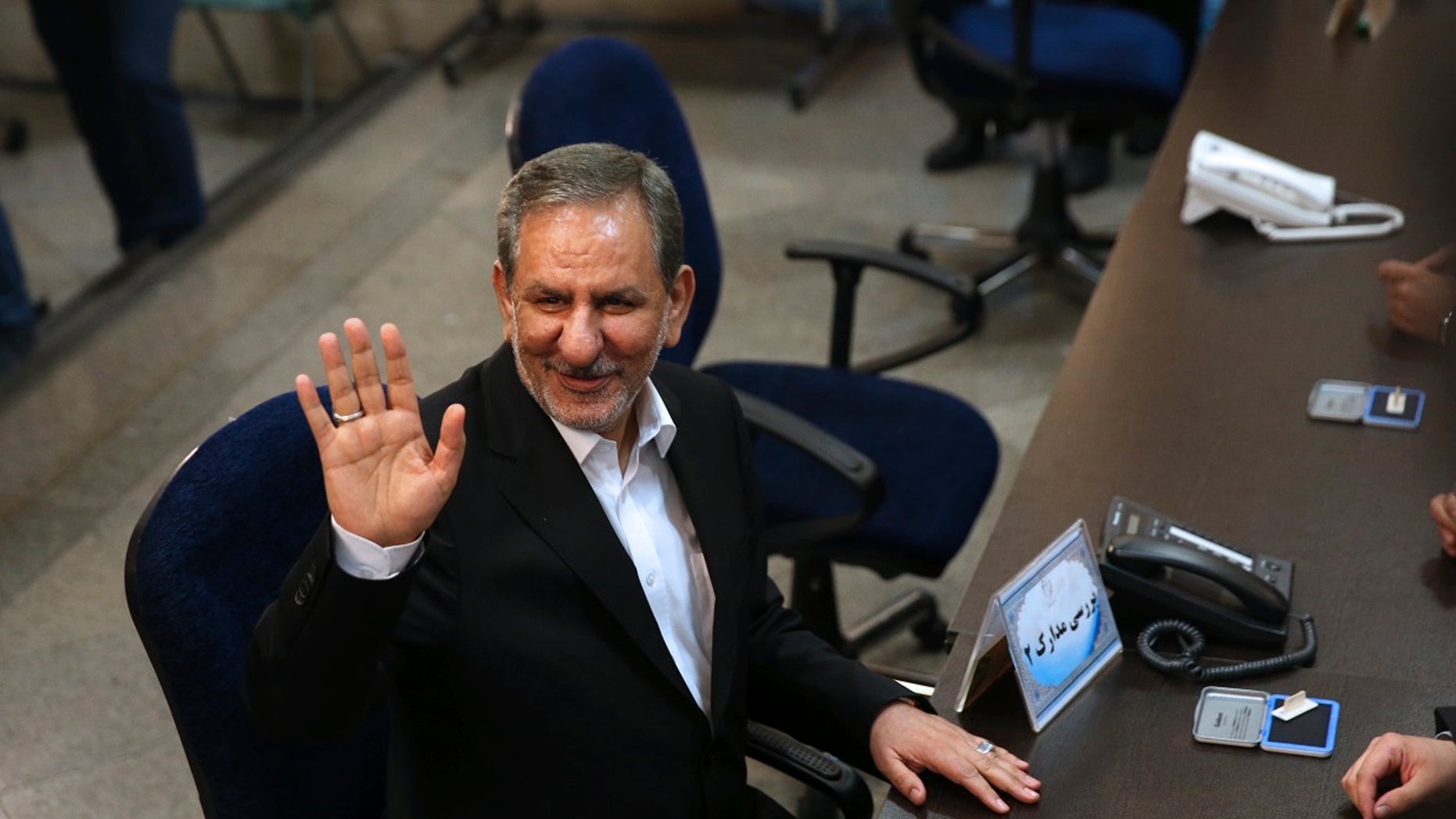 Iran's senior vice president dropped out of the country's presidential race Tuesday to endorse current President Hassan Rouhani, who is seeking a second term.
Eshaq Jahangiri, 60, a reformist and moderate, dropped out of the election, leaving just four candidates remaining in the race, according to state-run IRNA news agency.

The election is set to take place on Friday, May 19.
"To me, supporting Dr. Rouhani and voting for him is equal to supporting the mighty Iranian nation," Jahangiri told the Tehran Times.
On Monday, Tehran Mayor Mohammad Bagher Qalibaf, 55, dropped out of the election and endorsed hard-liner Ebrahim Raisi, 56, who is believed to be a favorite of Supreme Leader Ayatollah Ali Khamenei, Iran's top decision-maker.
IRANIAN CONSERVATIVE DROPS OUT OF RACE TO BACK CANDIDATE CHALLENGING PRESIDENT ROUHANI
Raisi, a cleric and former attorney general, serves as the head of the Imam Reza charity foundation, which manages a vast conglomerate of businesses and endowments in Iran.
Raisi is believed to be Rouhani's main rival in the race but it's not clear if Raisi will be unable to unseat him. Since 1981, every Iranian president has won re-election.
The election is being largely viewed as a referendum on the 2015 nuclear deal struck with world powers led by Rouhani's administration. The deal saw Iran limit its enrichment of uranium in exchange for the lifting of some economic sanctions.
FRANCE'S ATR DELIVERS FIRST PLANES TO IRAN AS TRADE GROWS
Iran has since resumed crucial oil exports to Europe and concluded billion-dollar deals to purchase passenger planes, but the effects have yet to trickle down to most Iranians, creating an opening for hard-liners who feel Rouhani gave too much away.
The Associated Press contributed to this report.