Iran's strict cyber regulations lay groundwork for 'halal' network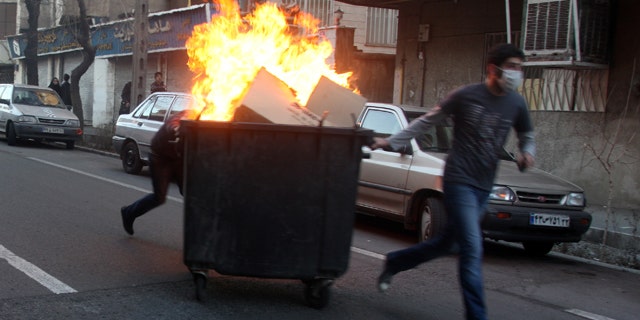 New cyber regulations announced by Iran last week, including requiring Internet cafes to install surveillance cameras, could be just a precursor to the Islamic Republic's "halal" network, many observers are saying.
That network, an "Islamically permissible" intranet that the nation's telecommunications ministry publicized in early 2011, would disconnect Iran from the rest of the world and run a parallel internal service that would automatically censor material and block popular global sites and search engines, such as Facebook, Google and Wikipedia.
"I don't think it's a question of if, but a question of when," said Austin Heap, executive director of the Censorship Research Center, who also works on developing technologies for increasing Internet freedom.
At the time of the announcement, Iranian authorities said the new infrastructure would be revealed soon, but did not give a specific time frame.
"They are taking the lessons of the 2009 uprisings and figuring out how to prevent that," Heap said. "A halal network would be only what the regime would want you to see."
Iran's network could mirror what Burma, another nation with draconian cyber crackdowns, has done to isolate its people from the Web, limiting users to a national intranet at a high price that deters most potential users.
Internet users in Iran have reported more blocked sites and spottier connections since the nation's harshest cyber regulations to date were unveiled last week.
Cyber police issued a list of 20 new restrictions that cyber cafes, or Cafe Nets, as they are called in Iran, must implement by Jan. 18. They include requiring a user to provide full name, father's name, Iranian identification number, zip code and telephone number, in addition to presenting photo identification.
The laws require cafes to install closed-circuit surveillance cameras that must be checked at the end of every business day. Cafes also must keep records of all websites and browsing history, along with surveillance tapes, for six months.
The new restrictions forbid cafes to allow the use of any circumvention technology, such as Virtual Private Networks (VPNs) or proxy servers, the devices Iranians typically use to access blocked sites.
This latest attack on Internet users comes amid increasing tensions between Iran and the West and deteriorating economic conditions as the Islamic Republic preemptively prepares for possible civilian unrest during its parliamentary elections March 2.
Since the 2009 post-election uprisings in Iran, protesters facing violent retaliation by government forces turned to the Internet and the use of social networking sites such as Facebook, Twitter and YouTube, as well as blogging sites, as effective, popular and safer ways to voice disenchantment against the regime.
Protesters gained global recognition, as well as the attention of their hard-line government, by using the Internet as the cornerstone of their political and social activism, obtaining information, organizing, recruiting and disseminating ideas to other Iranians and abroad.
As the government began its online suppression, blocking pivotal sites and slowing Internet connections days before the election, Heap, a 27-year-old programmer living in Northern California, began instructing Iranians on how to run third-party proxy servers to access government-blocked sites. After studying the Iranian government's technology, he developed specific software for the Iranians that encrypts data and hides Web activity.
"It's a giant PR campaign. They want the only story out there to be the one they're trying to push," said Heap, who believes that the regime has improved its Internet surveillance significantly since 2009.
"This is a way of brand control for a dictatorship. They want control over the story."
Since 2009, the Islamic Republic has arrested many journalists, photojournalists and bloggers who openly criticized the regime.
Last year, suspicions that Iran's rapid advancement in cyber surveillance capabilities could be imported from the West prompted Congress' investigative division, the Government Accountability Office, to launch a probe into American suppliers selling high-level communications spy technology to the nation.
While the study was unable to name specific businesses, the report was used to enforce broadened sanctions against Iran, making it illegal for U.S. entities to export sensitive technologies.
But the obstacles to unplugging Iran's savvy and Internet-dependent society are more than technical. Two-thirds of the country's 78 million people are under the age of 35, and about 40 percent of the population have Internet in their homes, according to Internet World Stats, making it one of the highest per capita cyber-connected populations in the world.
"Their goal is to close off the political ambience and limit the interaction of political and social activists," said Ramin, a 32-year-old political blogger from Tehran who declined to reveal his real name for security purposes.
Although Ramin does not frequent Internet cafes, he spends about six hours a day online, including about two hours on Facebook.
"Shutting down the Internet is not the biggest deal. What I am afraid of is losing communication with the outside and losing our means of getting information," he said.
Suppressing the free flow of ideas and censoring popular sentiment are nothing new for the Islamic Republic, which has engaged in a "soft war" against Western ideas, influence and infiltration since the 2009 uprisings.
In those two years, roughly $76 million of the total $11.5 billion allocated to the Islamic Revolution Guard Corps has been spent on cyber warfare, a battle "against old enemies using new strategies," the government once said about combating cyber dissidents in a hard-line newspaper. A task force of 250,000 cyber police currently monitors the Internet, specific sites, blogs and individuals suspected of using circumvention tools.
"The regime thinks that with censorship and force they can control the people and stay in power for many more years, but sooner or later, the people will rise up again," Ramin said.