Iran's President Rouhani seeks to preserve nuclear agreement with Europe
President Trump announced last week that the United States is pulling out of the Iran nuclear deal, but the country's embattled President Hassan Rouhani announced Sunday that Tehran may remain in the 2015 agreement providing European partners commit to protecting their financial interests.
"If the remaining five countries continue to abide by the agreement, Iran will remain in the deal despite the will of America," Rouhani noted during a meeting with the Sri Lankan president.
Rouhani affirmed Iran's commitment to curb its nuclear ambitions in the coming years on the basis that Britain, China, France, Germany and Russia – who also signed the accord three years ago – could guarantee that Iran be safeguarded from sanctions against vital areas of its economy, including oil.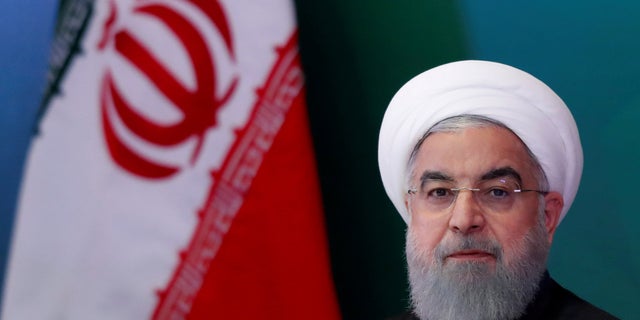 The country's foreign minister Mohammad Javad Zarif too is seeking to salvage the deal, this weekend commencing a tour with the other signatories in the hopes the agreement can be "re-designed" without the U.S.
However, not only will the US re-impose sanctions on Iran – but foreign firms dealing with the country could also be targeted, complicating rehabilitation aspirations and building skepticism that the agreement will survive.
IRAN AIMS TO BE KING OF THE HILL ON KEY STRATEGIC MOUNTAIN IN IRAQ
U.S. WANTS GERMANY TO HALT TRADE WITH IRAN
Furthermore, the controversial U.S withdrawal of the deal has highlighted schisms within Iran's own political top brass, who do not want to see the country re-commit to the deal.
Senior cleric Ayatollah Ahmad Khatami said Friday that Europe was "not to be trusted," and the head of the elite military wing, the Revolutionary Guards, General Mohammad Ali Jafari, has also blamed officials for looking "outside rather than looking at domestic potentials" to boost Iran's fragile economy.