Iranians chant 'Death to Israel' and 'Down with US' to mark anniversary of embassy takeover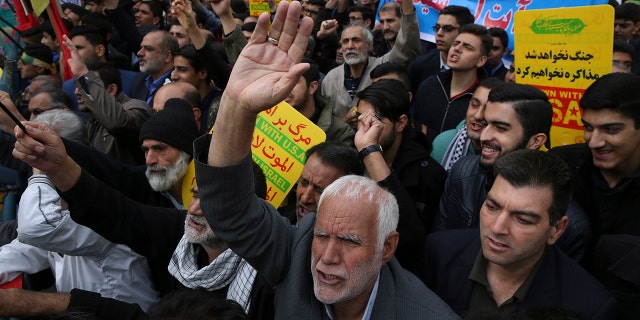 Thousands of Iranians on Sunday marked the 39th anniversary of the takeover and hostage crisis at the U.S. Embassy in Tehran that riveted America.
The 444-day crisis after the fall of the U.S.-allied shah played out on television with recurring images of blindfolded hostages prior to their release just after President Jimmy Carter left the White House.
On Sunday, hard-liners vented their rage at President Trump, who pulled America out of the nuclear deal struck by his predecessor that the United Nations says Tehran still honors. With crippling sanctions on Iran's vital oil industry set to take effect Monday, Iran's already-damaged economy likely will suffer more, though politicians and protesters struck a defiant tone.
"Today the Iranian nation will show that Mr. Trump is too small to be able to bring Iran to its knees," said Ali Larijani, Iran's parliament speaker.
CHINA RAPIDLY EXPANDING INTERNMENT CAMPS FOR MUSLIMS, REPORT SAYS
The annual commemoration marks when student demonstrators climbed over the fence at the embassy on Nov. 4, 1979, angered about Carter allowing the fatally ill Shah Mohammad Reza Pahlavi to receive cancer treatment in the United States. The students soon took over the entire, leafy compound. A few staffers fled and hid in the home of the Canadian ambassador to Iran before escaping the country with the help of the CIA, a story recounted in the 2012 film "Argo."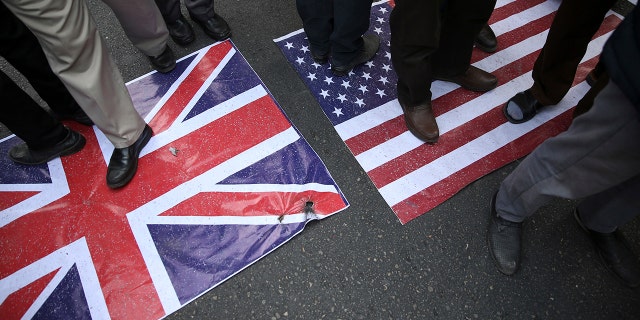 While the commemoration annually sees American flags burned and cries of "Death to America" rise up, it also has a carnival-like atmosphere for the students and others taking part. Some waved massive inflatable ballistic missiles. Others held signs lampooning Trump, including images of him contorted into a Nazi swastika or as a missile chasing after a dove.
Gen. Mohammad Ali Jafari, the commander-in-chief of Iran's paramilitary Revolutionary Guard, gave a speech vowing that Iran "can overcome this economic war and failure of the sanctions project is imminent."
EGYPT SAYS PERPETRATORS OF ATTACK AGAINST CHRISTIANS IS KILLED
"Mr. Trump! Never threaten Iran because moans of the frightened U.S. forces in Tabas can still be heard," Jafari said, referring to the failed American mission to rescue the hostages known as Operation Eagle Claw.
He added: "Still the moans of your terrified sailors and your British friends in the Persian Gulf can be heard," referring to times the Guard have held sailors captive there.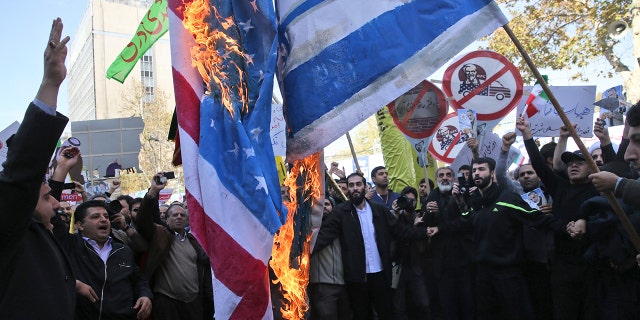 On Friday, the Trump administration announced the restoration of sanctions on Iran's shipping, financial and energy sectors, the second batch of penalties to be restored.
Iran is already in the grip of an economic crisis. Its rial currency now trades at 145,000 to one U.S. dollar, down from when it traded 40,500 to $1 a year ago. The economic chaos sparked mass anti-government protests at the end of last year which resulted in nearly 5,000 reported arrests and at least 25 people being killed. Sporadic demonstrations still continue.
The U.S. has said the sanctions are not aimed at toppling Iran's government, but at changing its policies, including its support for militant groups and development of long-range missiles.
Another demonstrator Sunday, Jamshid Zarei, waved a banner in English quoting Iran's Supreme Leader Ayatollah Ali Khamenei saying: "America can't do a damn thing."
"The Iranian people are feeling the economic pressure at their dinner tables and we complain about this, but it will not make Iranian people give up Islam, their values and the (Islamic) Revolution because of rising prices," he said, according to the Associated Press. "Anyone who thinks that way is really a fool."
The Associated Press contributed to this report.