Iranian people believe government will go to war to stay in power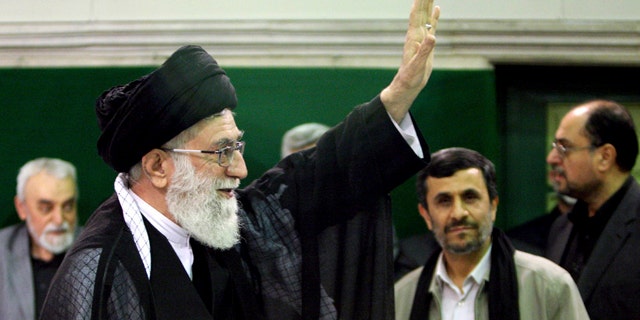 As global tensions increase over Iran's ongoing nuclear program, the drumbeats of war are loudly beating for the Iranian people, many believing war is imminent and what the regime is seeking to shake off international pressure and to reunite a fragmented society.
Though opinions vary, talk over potential military conflagration is popular across the country among Iranians, who are coping with the devastating affects of sanctions and economic deterioration through inflation and the soaring prices of common food items.
"Our government believes that if it will take a war in order for it to stay in power, then it will go to war," said Ramtin, a political blogger from Tehran who has been imprisoned in the past for publishing anti-regime material.
"There is a divide in the Mullah's regime; there are the more logical ones who know that war will be the end of this regime. Then there are those who are more thuggish and believe they can fight their way to stay in power."
This would not be the first time the regime would use a "them versus us" scenario in the shape of a war or military flareup to legitimize its stance and unite a discontented population.
The Iran-Iraq War of 1980-1988, which began directly after the Islamic Revolution, involved a network of clerics under coup-de-tat mastermind Ayatollah Ruhollah Khomeini, who replaced the throne of the Shah of Iran, and proved successful in confirming the Mullahs' regime.
Iraq invaded Iran under the premise that a recently revolutionized country would be too weak to withstand invasion. The new government in Tehran took this opportunity to occupy the minds of Iranians in the aftermath of a chaotic takeover and to rally both opponents and proponents of the regime around a new cause.
Up to 500,000 Iranian lives were lost. Husbands and sons killed in the war were called martyrs, and hundreds of thousands of veterans came home maimed by chemical warfare.
When the atrocities were over, Iranians forgot about the political turmoil of almost a decade past. They were consumed with life after a bloody and costly war.
Yet the country finds itself in vastly different social and political circumstances now.
In the aftermath of the 2009 Presidential Elections, Iranians across the country took to the streets and openly voiced disenchantment with the government. Political activists and opposition groups became visible through marches, protests, Facebook, Twitter and YouTube.
Over the past three years, the Iranian people have developed increasingly negative sentiments toward the regime as crackdowns on Internet users, journalists, religious minorities and others have been most violent. Fearful of a renewed attempt at revolution, the government has taken severe measures at keeping the masses off the streets and the Web.
"War is really on the way, because this regime is determined to be a nuclear power and has crossed many political lines in establishing that, and the West is not going to accept that," said Houtan, a student studying agricultural engineering.
"We all know it's coming, but I have a feeling it won't be until after the (Bashar al-) Assad regime falls and the elections in America pass."
Economic isolation from the United States and European Union in the form of pinpointed sanctions placed on the country's energy and banking sectors imposed to deter their ongoing nuclear proliferation program, have translated into severe inflation and a cutback of more than half of Iran's oil exports. The regime has admitted to the affects of the sanctions on the government and people, while maintaining that the nuclear program is for peaceful purposes.
"Some people are awaiting war, believing that things in this country will improve, because the economic situation is so severely bad, " said Bahareh, a 23-year-old medical student who admits she "does not follow politics," but lives "in a country where even the social behaviors are dictated by politics."

"The political ambience in Iran has changed. The suppression is more than before. There is talk of war everywhere when you go out and hear people speak. There's also contraction in the news that we hear," she said.
Which is why Bahareh says Iranians must be skeptical about news that's available in Iran, much of which is designed to brainwash and shape popular opinion.
There are three main avenues from which Iranians inside the country get their news.
Most obtain information from state-sponsored media platforms. These are the communications arms of the regime that often disseminate anti-West and anti-Israel propaganda.
For those who can afford it, there are satellites and foreign news services such as the BBC and Voice of America, designed to inform Iranians inside Iran.
Many young Iranians get their news through the Internet and social networking sites such as Facebook and Twitter, but not everyone has access, and service is not always available.
Supporting the idea that the government is preparing for war, regime leaders made two major announcements this week regarding missile testing and increasing naval military presence.
Government officials announced Monday that they are planning a "major" air defense exercise for late October, according to the ISNA News Agency.
The large-scale military exercise, which is being held in response to enemy threats, will be held expansively across the country and all military units will take part in the exercise, according to air defense commander brigadier General Farzad Esmaili in a press conference reported by ISNA.
Presently, there are 3,600 air defense bases across Iran, and the number is increasing, the report said.
The Islamic Republic also plans to expand its international presence into the Atlantic Ocean, Iran's Navy Commander Rear Admiral Habibollah Sayyari said Wednesday.
Iran's Navy will be "present anywhere in international waters in order to safeguard the Islamic Republic's interest," Sayyari said.
Iran's Navy has been beefing up its naval presence in international waters over the last year, sending vessels to the Indian Ocean and two ships through the Suez Canal to the Mediterranean in February of last year for the first time, according to State-run Press TV.