Iran Hails U.S. Rescue of Sailors as 'Humanitarian and Positive' Act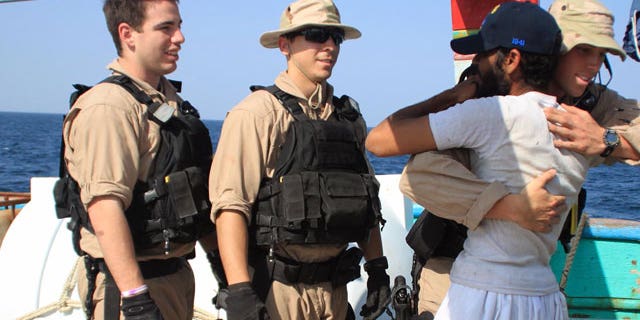 TEHRAN – Iran's foreign ministry on Saturday labeled the U.S. Navy's rescue of 13 Iranians from pirates who had hijacked a fishing vessel a "humanitarian and positive" act.
"We consider the actions of the U.S. forces in saving the lives of Iranian seamen to be a humanitarian and positive act and we welcome such behavior. We think all nations should display such behavior," Iran's foreign ministry spokesman Ramin Mehmanparast told broadcaster al Alam.
U.S. forces rescued the Iranian sailors Thursday after a Navy helicopter spotted a suspicious skiff alongside an Iranian-flagged boat and picked up a distress signal from its captain.
Ironically, the forces that came to assist the sailors were assigned to the USS John C. Stennis strike group -- the same aircraft carrier that was subject to an Iranian threat just days earlier amid heightened tensions between Washington and Tehran over the Islamic Republic's pledge to close the Strait of Hormuz.
A counter-piracy team from the Navy destroyer USS Kidd boarded and detained 15 pirates who had been holding the boat's crew hostage for more than a month, using their ship, the Al Molai, as a launch pad to mount raids on other vessels.
The captured pirates were put on board the Stennis while authorities considered prosecuting them.
The rescue came just days after Iran's army chief warned the Stennis against returning to the Strait of Hormuz, a key shipping route for up to 20 percent of the world's oil.
The aircraft carrier, one of the largest in the U.S. fleet, had vacated the area while Iran's navy conducted war games in the Persian Gulf for ten days.
U.S. officials have dismissed the threat of closing the waterway as an increasingly isolated Iran lashing out at the international community.